Food Hydrocolloids Market Overview and Scope 2018 to 2024: Cargill, Hawkins Watts, Royal DSM, Ashland, TIC Gums Corporation, Darling Ingredients
Infinium Global Research added Latest Research Report titled "Food Hydrocolloids Market by Manufacturers, Regions, Product Type and Application, Forecast to 2024" to its Large Report database.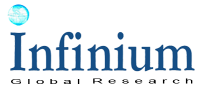 Pune, India -- (SBWire) -- 11/01/2018 --The main objective of this report is to define, describe, and forecast the global "Food Hydrocolloids" market on the basis of types of applications, major sectors, deployment models, organization size, and regions. The report contains an analysis of the major factors influencing the growth of the market (drivers, restraints, opportunities, and challenges). It aims to strategically analyze the micromarkets with respect to individual growth trends, prospects, and their contribution to the market. The report attempts to forecast the market size for 5 major regions, namely, North America, Europe, Asia Pacific (APAC), Middle East and Africa (MEA), and Latin America. It contains key vendor profiles and comprehensively analyzes their core competencies. The report also tracks and analyzes competitive developments, including partnerships, collaborations, acquisitions, new product developments, and R&D activities in the market.

Download Sample Copy of Food Hydrocolloids Market @ https://www.infiniumglobalresearch.com/reports/sample-request/1808

Alland & Robert has launched Syndeo a clean label hydrocolloid solution

June 2017, Alland & Robert has launched Syndeo, which is a range of clean label hydrocolloid solution. The Syndeo is based on a blend of natural and vegetal hydrocolloid that can be used as a functional additives in food and drinks including dairy free beverages. It improves mouthfeel and enhance moisture retention. Further its blend is made of a soluble fiber with no additives, preservatives or allergens, and contains no sugar so it can used in no added sugar or sugar free recipes. It also meets all the additional demand in the beverage market.

Increasing the usage of hydrocolloids as thickening to drive the growth in Food Hydrocolloids market in the next 6 years

Factors such as increasing demand due to its ability to lessen considerable amount for dissolving water and acting as fat substitutes in food products are likely to fuel the global hydrocolloids market. Further, growing acceptance of ready-to-eat meals, and increasing the usage of hydrocolloids as thickening and gelling agents in food are boost the growth of Food hydrocolloid market. In addition, other factors that are driving the growth of this market are upsurge in health consciousness, multi-functionality of food hydrocolloid, and growing demand for food hydrocolloid in food products due to its increasing shelf life property in food.

Additionally, the key players in the food hydrocolloids market are constantly focused on R&D to provide new products to their rising demand in processed and convenience foods. The probable growth opportunities in emerging economies and the increasing consumption of convenience foods are projected to accelerate the growth of the overall market in the upcoming years. However, the multi usage of food hydrocolloids is projected to generate promising growth opportunities for this market in upcoming years. On the other hand factor such as the strict regulations affecting to use of food stabilizer products is estimated to hamper the growth of food hydrocolloids market over the upcoming years.

Buy Food Hydrocolloids Market Research Report @ https://www.infiniumglobalresearch.com/reports/purchase/1808

North America led the growth of food hydrocolloid market through 2018-2024

North America led the growth of food hydrocolloid market followed by Europe and Asia Pacific. The growth in this region is mainly due to growth in disposable income, increase in the demand for processed food, changing consumers' lifestyle, and increase in working population that have resulted in growing demand for convenience and processed foods and these factors are boosting the growth of food hydrocolloid market. Further, in Europe region, factors such as rising demand for healthy food products, upsurge in processed foods demand with the noteworthy growth in low-fat food products is anticipated to drive the market growth in this region. In addition, Asia Pacific region is boosted by the factors such as growing consciousness on nutritional food, augmented application of product manufacturers in the developing countries, and shifting food intake pattern in countries like China and India are propelling the growth of food hydrocolloid market in Asia Pacific.

The major key players in Food Hydrocolloids Market are Cargill Inc, Hawkins Watts, Royal DSM, Ashland, TIC Gums Corporation, Darling Ingredients Inc, Penford Corporation, CP Kelco, Kerry Group and Dupont.

About Infinium Global Research
Infinium Global Research and Consulting Solutions is started with a single motto of being business partner of first choice. We at Infinium work on the strengths of our clients to ensure we help them consolidate their market position. We firmly believe in the fact that 'if you are able to develop newer opportunities then you find there is no dearth of opportunities for you. With our strategic research approaches and deep dive in the market segments, we try to find out new opportunities that our clients can encash with their existing resources. Our experts with over 100 years of cumulative experience in research offer the best in the industry services to our clients to ensure that they achieve their business goals.
Media Relations Contact