Global Hard Ice Cream Machines Market Projected to Reach US$460 Mn by 2025, Reports QY Research, Inc.
Global Hard Ice Cream Machines Market Report with detailed market segmentation, The report also includes the detailed company profiles of the key players in the market along with their market strategies.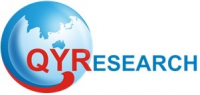 Los Angeles, CA -- (SBWire) -- 04/18/2019 --The worldwide hard ice cream machine market is well diversified across APAC, Europe and North America. Asia-Pacific has the highest sale market share and dominates the hard ice cream machine market with revenue of 33.55% in 2016. Europe is the next big market following Asia-Pacific. The growth of hard ice cream machine business is expected to grow at a moderate pace. Europe's share in the market is declined during 2012 to 2017 from 28.89% to 28.34%.

Despite the presence of competition problems, due to the global recovery trend is slightly, investor are still optimistic about this area; the future will still have more new investment enter the field.

The global Hard Ice Cream Machines market was 400 million US$ in 2018 and is expected to 460 million US$ by the end of 2025, growing at a CAGR of 1.8% between 2019 and 2025.

Request Sample Report and Full Report TOC: https://www.qyresearch.com/sample-form/form/1091882/global-hard-ice-cream-machines-market

This report studies the Hard Ice Cream Machines market size (value and volume) by players, regions, product types and end industries, history data 2014-2018 and forecast data 2019-2025; This report also studies the global market competition landscape, market drivers and trends, opportunities and challenges, risks and entry barriers, sales channels, distributors and Porter's Five Forces Analysis.

Geographically, this report is segmented into several key regions, with sales, revenue, market share and growth Rate of Hard Ice Cream Machines in these regions, from 2014 to 2025, covering

North America (United States, Canada and Mexico)

Europe (Germany, UK, France, Italy, Russia and Turkey etc.)

Asia-Pacific (China, Japan, Korea, India, Australia, Indonesia, Thailand, Philippines, Malaysia and Vietnam)

South America (Brazil etc.)

Middle East and Africa (Egypt and GCC Countries)

The various contributors involved in the value chain of the product include manufacturers, suppliers, distributors, intermediaries, and customers. The key manufacturers in this market include

CARPIGIANI

Bravo

Frigomat

DONPER

TAYLOR

Shanghai Lisong

Guangshen

Oceanpower

Tetra Pak

Gram Equipment

Tekno-Ice

Big Drum Engineering GmbH

Technogel

Ice Group

Catta 27

Vojta

By the product type, the market is primarily split into

Hard Ice Cream Production Line

Independent Hard Ice Cream Machines

By the end users/application, this report covers the following segments

Hotel & Restaurant

Small-scale Ice Cream Manufacturing Enterprise

Large-scale Ice Cream Manufacturing Enterprise

Buy Full Hard Ice Cream Machines Market Report Now, Report delivery time within 24 hours @ https://www.qyresearch.com/settlement/pre/83d9a1b490549b9ada0c4b4f64190e64,0,1,Global%20Hard%20Ice%20Cream%20Machines%20Market%20Report,%20History%20and%20Forecast%202014-2025,%20Breakdown%20Data%20by%20Manufacturers,%20Key%20Regions,%20Types%20and%20Application

About QYResearch
QYResearch established in 2007, focus on custom research, management consulting, IPO consulting, industry chain research, data base and seminar services. The company owned a large basic data base (such as National Bureau of statistics database, Customs import and export database, Industry Association Database etc), expert's resources (included energy automotive chemical medical ICT consumer goods etc.
Media Relations Contact