Antithrombin Market Recent Study Including Growth Factors, Applications, Regional Analysis, Key Players and Forecasts Till 2026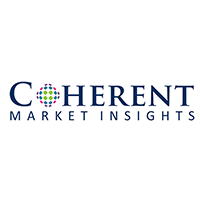 Seattle, WA -- (SBWire) -- 11/06/2019 --Antithrombin is a protein present in blood that inactivates thrombin to restrict blood clotting. The protein in produced by liver and contains 432 amino acids. There are two types of antithrombin deficiency and inherited antithrombin deficiency. Antithrombin deficiency caused due to other diseases such as nephrotic syndrome, liver failure, severe trauma, and metastatic tumors is called acquired antithrombin deficiency, whereas inherited antithrombin deficiency is caused due to a genetic mutation or abnormality. According to National Center for Biotechnology Information (NCBI), inherited antithrombin deficiency is a rare deficiency that occurs in only 0.2% of the global population.

ATryn is a widely used drug for the treatment of Antithrombin deficiency. The drug, developed by rEVO Biologics, received the U.S. Food and Drug Administration (FDA) approval in 2009. Antithrombin shows synergistic activity with heparin that enhances the antithrombin binding with Thrombin (factor II a) and Factor Xa. Antithrombin III blood test is used to measure the extent of antithrombin deficiency.

Get PDF Brochure of Research Report @ https://www.coherentmarketinsights.com/insight/request-pdf/2018

Increasing prevalence of coagulation disorders and high number of open heart surgeries and extracorporeal circulation during hemodialysis is expected to boost growth of the global antithrombin market. For instance, according to the Centers for Disease Control and Prevention (CDC), 2015, around 900,000 people are affected from venous thromboembolism, annually in the U.S. Moreover, 5 to 8% of the U.S. population has increased risk of suffering from thrombosis due to one of the several genetic risk factors known as inherited thrombophilia.

Key players in the market are focused on developing advanced administering technologies, which is also expected to boost growth of the antithrombin market. For instance, Fitusiran (ALN-AT3), developed by Alnylam Pharmaceuticals, Inc., is a subcutaneously administered, investigational RNAi therapeutic targeting antithrombin (AT). This therapeutic can be used for the treatment of hemophilia and rare bleeding disorders (RBDs). It is in late stage (Phase 2-phase 3) clinical trial. Moreover, GTC Biotherapeutics, Inc.'s product called as ATryn Antithrombin (Recombinant), derived from human blood donors, is used for hereditary antithrombin deficiency. The therapy recently received market approval in the U.S.

Get Request Sample from Industry Experts @ https://www.coherentmarketinsights.com/insight/request-sample/201 8

Moreover, increasing use of antithrombin+ heparin in combination is also expected to propel growth of the market. Heparin resistance in cardiac surgery is expected to boost adoption of antithrombin products in anticoagulation therapy.

Increasing adoption of robust technologies and antithrombin therapies and high awareness of antithrombin among the populace is expected to boost growth of the market in North America and Europe. Moreover, increasing regulatory approvals of drugs in these regions is also expected to aid in growth of the markets.

The market in Asia Pacific is majorly driven by significant improvements in the healthcare infrastructure in emerging economies of China and India. Key players in the market are focused on product approval and launch to expand their product portfolio. For instance, in 2016, China Biologic Products, Inc.'s subsidiary, Shandong Taibang Biological Products Co. Ltd., obtained approval from the China Food and Drug Administration (CFDA) to begin human clinical trials using its Human Antithrombin III (ATIII) product for the treatment of hereditary and acquired ATIII deficiency, which are more prone during surgical or obstetrical procedures, and treatment of thromboembolism.

Key players operating in the global antithrombin market include, GTC Biotherapeutics, Inc.'s, Green Cross Corp., Grifols, Shire Plc., rEVO Biologics Inc., CSL Limited, Kedrion S.p.A, Lee Bisolutions, Scripps Laboratories Inc., and BDI Pharma.

Inquire about Discount on this Report @ https://www.coherentmarketinsights.com/insight/request-discount/2018

About Coherent Market Insights
Coherent Market Insights is a prominent market research and consulting firm offering action-ready syndicated research reports, custom market analysis, consulting services, and competitive analysis through various recommendations related to emerging market trends, technologies, and potential absolute dollar opportunity.
Media Relations Contact