Roman and Sons Now Offering 0% Financing or Up to $1,500 in Discounts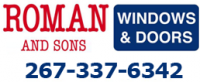 Warrington, PA -- (SBWire) -- 10/21/2013 --Roman and Sons, one of the leading providers of windows in Horsham, PA, is pleased to announce they are now offering an exciting special of 0% financing or up to $1,500 in discounts. With these special offers, now is the time to replace old windows and doors in the home.

Older windows and doors in a home can let unwanted cold air in during the winter months. As a result, the heat source needs to work harder to keep the home to the desired temperature set on the thermostat. As an end result, the energy bill for the home is much higher than it should be. Replacing old and drafty windows and doors in the home will keep all the heated air in and cold air out. This will make a significant difference in the energy efficiency of a home.

Not only will it make a difference during the cold months, but it will also increase the efficiency of a home during the warm months as well. Many older homes may also need new casing around the window. Over time, the wood casement around the window will become rotted and will no longer have a tight seal. Cold air can creep in through the rotted or warped wood and also through an older window. Roman and Sons teams of experts can evaluate the situation and determine the best and most cost effective plan to increase the energy efficiency in a home.

Contact the Horsham windows company today to take advantage of 0% financing or to learn the details on how to save up to $1500 in discounts. Replacing windows and doors in a home are a great investment. Not only will it increase the energy efficiency, but will also increase the overall value of a home.

About Roman and Sons
Roman and Sons is a family business that strives to continuously improve upon themselves by staying focused on what they do best—windows and doors. Their family's good name and reputation is on the line every time, and they are currently considered as one of the best returns on investment when it comes to any home improvement project.

To hear more please visit http://www.romanandsons.com.
Media Relations Contact