VTG Rail Currently Seeking Equipment
Railcar Leasing Specialists Looking to Add Covered Hoppers, Open Top Hoppers, Tank Cars and Gondolas to Fleet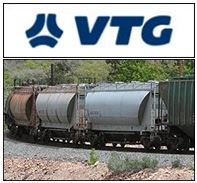 Edwardsville, IL -- (SBWire) -- 12/12/2013 --Railway products provider VTG Rail is currently looking to expand their fleet of railcars for lease.

Due to exceptionally high demand for railcar leasing, VTG is currently looking to add covered hoppers, tank cars, open top hoppers and gondolas. Additionally, VTG seeks aggregate cars, ballast cars, and two pocket small cube cars appropriate for cement, sand, lime, granules, and glass. .

VTG still has plenty of those car types currently for lease. They offer both net and full service leases, which can be customized to fit different lengths and payment structures. This allows operators to put equipment on the rails immediately with no capital expenditure.

To see all of VTG Rail's available rail car leasing, sales, and purchasing options, visit their website at http://www.vtgrail.com/. To speak with a VTG representative directly, call their offices at (618) 343-0600 or (956) 630-2723, or visit in person at their Edwardsville, Illinois or McAllen, Texas locations.

About VTG Rail
VTG Rail has been buying, selling, and leasing rail cars to companies in need for over 25 years. Their staff has decades of experience in the industry and their Total Quality Management system helps implement their processes and procedures ensuring that all customers receive the time, attention, and information that they need to make the right choices for their specific situation.
Media Relations Contact