Automatic Gate Resource Center to Launch Membership Program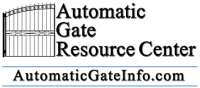 Seattle, WA -- (SBWire) -- 01/20/2014 --Automatic Gate Resource Center (AGRC) is set to launch its gate professional membership program at FenceTech 2014.

AGRC educates and connects consumers and gate professionals to create beautiful and safe automatic driveway gates. On AGRC's website, along with educating consumers on automatic gates, gate system installers, manufacturers, and distributors share and gain access to tips, instructions, and online training on equipment, installation, and technical and sales issues. The subscription-based gate professional community and education portal is set to officially tee off at FenceTech, a fence and gate industry tradeshow held this year in Las Vegas from March 6-8, 2014.

While at the show, fence and gate professionals, distributors, and manufacturers can take AGRC for a test drive with live demonstrations, and sign up for a free trial membership, allowing those industry professionals access to all of the features and benefits AGRC has on offer.

"We've been pleasantly surprised by the amount of interest the membership program has already attracted, even in its infancy," says Josiah Fuerte, co-founder of Automatic Gate Resource Center. "We're currently in our beta phase and have already fielded a number of questions about our upcoming launch."

The response to the beta program, a limited launch meant to garner feedback from industry insiders, has helped confirm that there's a definite place for AGRC's community and education offerings.

Bill Grant, Seattle Branch Manager at Controlled Product Systems Group, believes AGRC's education offerings can have an impact on installers' bottom line. "At AGRC, you will find a means for serious end-users to research the reality of every aspect of the process of determining the best gate system to meet their specific application requirements," says Grant. "This educational website will provide a much faster sales and installation process for the installing dealer."

Buddy Whited, Lead Technician at Automated Access Systems in Perris, CA, finds AGRC's community building aspect to be a valuable benefit. "A community where gate installation professionals can discuss technical issues, system design, and gate safety with each other is sorely needed," shares Whited.

Bob Vetter, Northwest Regional Sales Manager at HySecurity, appreciates AGRC's commitment to championing safety. "Where safety is the chief concern," says Vetter, "there are no short cuts. AGRC takes the process of automating gates and provides a concise and easy to understand path to a safe and satisfying installation."

AGRC will launch with an ever-expanding library of knowledge base articles and videos on sales, installation, and maintenance issues, as well as industry news and insights, a lead generation program, and a community forum through which professionals can get quick answers to difficult and complex questions.

"AGRC is committed to helping gate professionals expand their installation and service knowledge. We want to make sure our membership base of automatic gate professionals can access timely training and answers that are available when and where they need it," adds Fuerte.

At FenceTech, fence and gate professionals can visit booth 1080 to learn more about how AGRC can benefit them, while winning a chance at a few grand prizes.

A short video announcing AGRC's upcoming launch is available here: http://automaticgateinfo.com/fencetech-2014

Industry professionals can sign up to stay abreast of AGRC developments via the AGRC Gate Professional Newsletter: http://automaticgateinfo.com/agrc-newsletter

About Automatic Gate Resource Center (AGRC)
Automatic Gate Resource Center (www.automaticgateinfo.com) is a comprehensive online reference on automatic driveway gates. We're not only here to help consumers conduct research, and to design a high quality, safe, and beautiful automatic gate system, we also provide a space for installers, manufacturers, and distributors to share advice on equipment, installation, and technical and sales issues, thereby cooperatively raising the level of professionalism and competence in our field.
Media Relations Contact