Beverly Loan Company Partnering to Make Loans Against Motor Vehicles
Beverly Hills Pawn Shop Makes Loan Against $250,000 Ferrari 458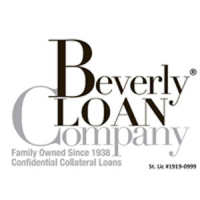 Beverly Hills, CA -- (SBWire) -- 07/08/2014 --Beverly Loan Company, often coined as the "Pawnshop to the Stars," has announced a new partnership that will allow its clients to receive VIP treatment from the industry leader in pawn loans and title loans against cars, trucks, motorcycles, and boats. Since 1938 Beverly Loan Company has been the premiere collateral lender for gold and platinum jewelry, diamonds and colored stones, fine watches, modern and contemporary art, and sports and entertainment memorabilia, but has only recently begun facilitating loans against motor vehicles.

Beverly Loan Company regularly assists those who find themselves in a cash crunch or perhaps find themselves with a potentially lucrative opportunity that requires liquidity. Many of Tabach-Bank's clients have vehicles that they can pledge as collateral to meet those immediate needs, but they are unwilling to leave their keys with just any lender.

"We noted an increasing number of inquiries from our clients for auto loans, particularly against high-end cars such as Porsche, BMW and Mercedes, so we arranged for these requests to be serviced by the best in the business," said Jordan Tabach-Bank, CEO and owner of Beverly Loan Company. Motor vehicles are the most recent addition to the list of assets that may be used as collateral for a short-term nonrecourse pawn loan.

Automobile loans are a very specific area of expertise, so Beverly Loan Company decided to partner with the most experienced when it comes to auto pawn and title loans. While most of the inquiries that Beverly Loan Company has received have been for classics, luxury and exotic cars including Lamborghinis and Bentleys, all vehicles will receive an offer, no matter the make, model or mileage.

In its first week offering this service, Beverly Loan Company was able to facilitate a loan against a 2011 Range Rover and a 2013 Ferrari 458, which was originally purchased for upwards of a quarter of a million dollars. "The Ferrari client had borrowed many times in the past against his Patek Philippe collection, but he needed some additional cash and he appreciated the discreet white glove service that we were able to provide including a convenient visit to his home to inspect the collateral and initiate the transaction," explained Tabach-Bank.

About Beverly Loan Company
Beverly Loan Company has catered to socialites, businesspeople and celebrities in Beverly Hills since 1938, making confidential pawn loans from private offices on the third floor of the Bank of America building on the corner of Santa Monica Blvd. and Beverly Dr. Beverly Loan Company is frequently featured in the media, including appearances in the New York Times, Wall Street Journal, Los Angeles Times, CNN, E! Entertainment Television, and Good Morning America.

For more information, please visit www.BeverlyLoan.com.
Media Relations Contact