Parts Geek Now Offering over 66,600 Cadillac Auto Parts & Accessories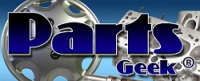 Marlton, NJ -- (SBWire) -- 07/07/2014 --Cadillac, a brand of cars owned by the General Motors Company (GM), are luxury vehicles that are distributed all over the globe. Cadillac is also the 2nd oldest American-made vehicle brand that is known for providing unparalleled performance, and that is also recognized for their focus on improving their technology. As a leading auto parts retailer, Parts Geek is pleased to announce that they are now offering over 66,600 Cadillac auto parts and accessories for those who are trying to find affordable and high-quality Cadillac products online.

Parts Geek offers auto parts and accessories for the following Cadillac models: Catera, Eldorado, STS, CTS, Escalade, Deville, Seville, DTS and SRX. Some of the parts they have available include but are not limited to alternators, mufflers, car covers, parking lights, mud flaps, tail lights, and TPMS sensors.

Reviews that Parts Geek has received in regards to their Cadillac products have been extremely positive. One reviewer, who ordered a UAC brand A/C Compressor, gave Parts Geek a 5 out 5 stars and also had this to say: "Could not believe how much cheaper the price was than that of the dealer. My mechanic even commented on how what a great compressor this appeared to be and it works great as well. Shipping was fast and it was on the car, fit perfect within 3 days of me ordering. Thank You."

Parts Geek offers the lowest prices on high-quality auto parts and accessories that can be found on the Internet. To see their full line of Cadillac products please visit their website today.

About Parts Geek
At Parts Geek, they offer the best and most competitive prices on imported and domestic car parts. They also offer automobile accessories, and many of their items ship quickly—all from warehouses scattered throughout the US. Customers can pick from thousands—if not millions, of new automotive parts, refurbished/rebuilt parts, and more from reliable and certified manufacturers. To learn more please visit http://www.partsgeek.com.
Media Relations Contact