White House Chef Features the "Hot Dog" at Presidential Museum
Offering a nitrate log to bite, for visiting royalty, is tops for White House chefs when it comes to American cuisine. With the bounty of our farmers, famed products, food, wines and culinary excellence there seems to not be anything better to cook.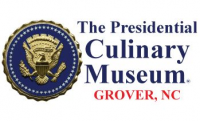 Grover, NC -- (SBWire) -- 07/02/2015 --"Oh, I wish I were an Oscar Mayer wiener." At the top of any chef's list is never serving a hot dog on fine bone china. But, according to former White House chef Marti Mongiello, it's being showcased on fine bone china in the glass and mirrored museum cases of the Presidential Culinary Museum. A new exhibit of the "Royals" debuts August 28, 2015 in the town named after the President, Grover, NC.

Franklin Roosevelt invited Great Britain's King George VI for a visit to the United States in 1939. After two days in Washington, DC - "the tone of the royal couple's visit transformed from formal to informal as they accompanied the Roosevelts to their home in Hyde Park, New York. The King and Queen's stay in Hyde Park illustrated to the American people that although they were Royalty, they also enjoyed the simpler things in life. In contrast to the formal State Dinner at the White House, dinner at the Roosevelt's Home "Springwood" was described to the press as a casual dinner between the two families; their evening entertainment was simple conversation, unfettered by formalities. Even more relaxing and informal was the following day's event - a picnic. FDR brought the couple to his new hilltop retreat, Top Cottage, on the eastern portion of his estate for an old-fashioned, American-style picnic. Much to the horror of FDR's mother Sara Roosevelt, the King and Queen of England were served hot dogs on the front porch of the cottage. Although the press made a great deal about the hot dogs (the picnic made the front page of the New York Times). The royal couple delighted in their Hyde Park experience." (FDR Library)
"Lets be frank, all the King and Queen had to do was pick up the wiener, relish the moment, let the President help apply mustard on for the Queen, bite it and swallow it," states Allan Miller, Managing Director at the Museum. "They loved them and then we loved them back."

Additional licensed items from Downton Abbey, china from Highclere Castle, butler tomes, famed servants books written, an antique 1930's era three piece silver spice set and Biltmore Estate china accompany the displays.

The Presidential Culinary Museum has recently been assisting the Kings Mountain Historical Museum, Earl Scruggs Center, Harvey Gantt African American Museum, Charlotte Walk of Fame, May 20th Society and the Levine Museum of the New South - all by request for exhibits and interpretation.
Media Relations Contact