Metabolite Chemistry Reagents Report on Global and United States Market Is Expected to Reach 15818.85 Million by 2025 – QY Research
QYResearch is a leading market research publisher which pursuits high product quality with the belief that quality is the soul of business and consulting group has accumulated creative design methods on many high-quality markets investigation and research team with rich experience.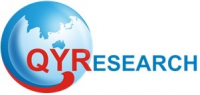 City of Industry, CA -- (SBWire) -- 08/16/2018 --This report studies the Metabolite Chemistry Reagents market status and outlook of global and United States, from angles of players, regions, product types and end industries; this report analyzes the top players in global and United States market and splits the Metabolite Chemistry Reagents market by product type and applications/end industries.
The On the basis of manufacturers, the Metabolite Chemistry Reagents market is primarily split into

BioVision

Merck

Thermo Fisher Scientific

BD

Abbott

Kerafast

Beijing Strong Biotechnologies

Pointe Scientific

Luxcel Biosciences

Randox Laboratories Limited

Beijing Leadman Biochemistry

Shenzhen Bioeasy Biotechnology

Shenzhen Lvshiyuan Biotechnology

BioSino

NITTO BOSEKI

Geographically, this report is segmented into several key regions, with sales, revenue, market share and growth Rate of Metabolite Chemistry Reagents in these regions, from 2013 to 2024(forecast), covering

United States

North America

Europe

Asia-Pacific

South America

Request to Buy Full Report@ https://www.qyresearch.com/settlement/pre/8c1a54fc29eca3f027de0a9d85b8d001,0,1

Middle East and Africa

The On the basis of product, the Metabolite Chemistry Reagents market is primarily split into

Glycometabolism

Amino Acid Metabolism

Fatty Acid/Cholesterol Metabolism

Others

On the basis on the end users/applications, this report covers

Diabetes

Obesity

Others

Request Sample Copy of Report@ https://www.qyresearch.com/sample-form/form/265796/metabolite-chemistry-reagents-report-on-global-and-united-states-market

About QY Research
QY Research established in 2007, focus on custom research, management consulting, IPO consulting, industry chain research, data base and seminar services. The company owned a large basic data base (such as National Bureau of statistics database, Customs import and export database, Industry Association Database etc), expert's resources (included energy automotive chemical medical ICT consumer goods etc.
Media Relations Contact