Limited Sponsorships Remain for the Highly-Anticipated 2018 Carriers Ball "Let Evolution Ring" with Legend Grandmaster Flash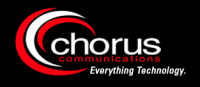 Philadelphia, PA -- (SBWire) -- 08/22/2018 --Chorus Communications, an award-winning technology consulting firm that helps companies in South Jersey and across the nation find cloud hosting solutions and much more, is preparing once again to host to the most successful and influential players in the telecommunications, telecom IP services, and cloud computing industries at the upcoming Chorus Carriers Ball. Businesses looking to seize the opportunity to position their brands in front of a prosperous crowd of industry-leading agents and executives can contact Chorus Communications for sponsorship options and details on their strategic marketing and advertising plan for the event.

Held during the highly-anticipated 2018 Channel Partners Evolution conference, the 4th Annual Chorus Carriers Ball is set to take place at The Liberty View at Philadelphia's Independence Visitor Center, located in the heart of Old City. Between an elegant ballroom and a beautiful outdoor terrace with breathtaking views of Independence Hall and the Liberty Bell, guests will enjoy a night of networking, refreshments, entertainment, and so much more.

As with every Carriers Ball, Chorus Communications has gone out of its way to bring in top entertainers for the red-carpet event. This year's primary entertainer is one of the pioneers of hip-hop, a member of the Rock and Roll Hall of Fame whose influence is still evident in today's music, Grandmaster Flash. The Bronx native who grew into one of the music industry's most prominent DJs will be performing an exclusive show at the 2018 Chorus Carriers Ball that attendees will not want to miss.

Additional entertainment includes a performance by the South Philadelphia String Band—winners of the 2018 Philadelphia Mummers Parade and one of the most electrifying groups in Mummers history, and appearances by all-time Philadelphia greats Ben Franklin and Rocky Balboa.

Held to honor the most innovative, successful, and influential carriers and solution providers in the nation, the night will include voting from over 20,000 agents nationwide in a range of categories spanning from most creative cloud solutions to best channel manager and more. This voting process coupled with the massive media outreach and public relations campaigns provide an opportunity for sponsors to position their brands in front of tens of thousands of the industry's most important agents. Lastly, Chorus Communications will be presenting 10 awards—the most the company has ever given to date.

This year's presenting sponsor is COLOTRAQ, the data center industry's premier sourcing partner since 1999. Other sponsors include Comcast business, OnSip, Digital Realty, iAgent, Five9, PacketFabric, Netrality, Telesystem, TPx, Pilot Fiber, NetFortris, and RingCentral. Sponsorship opportunities for the much-anticipated event are filling up fast, but there are still limited packages available for those looking to take advantage of the impressive audience of industry giants.

For more information on sponsorship packages and the strategic marketing and advertising plan that will run both at the Channel Partners Evolution conference and nationwide, visit Chorus Communications online at https://www.choruscommunications.com/ or contact Chorus' Director of Marketing, Buffy Harakidas, at 215-600-0009.

About Chorus Communications
Chorus Communications is an award-winning Technology Consulting Firm that has built an unmatched reputation with its sales-partners, suppliers, and customers. Founded in 1995, Chorus is highly regarded as a leading Master Agency and has an extensive portfolio of cutting-edge products and services to meet today's ever-evolving world of technology. The experts at Chorus provide knowledgeable recommendations on your needs from complex cloud designs to global wide-area network deployments and everything in between.

Chorus is dedicated to helping sales partners and customers in making knowledgeable choices about services, technology, and cost-efficient communications.

Chorus Communications has received numerous awards and accolades recently, including the IT Hero Award, Comcast Gold Partnership, the Comcast Top-Performers Award and the Ciena Club Award.

To learn more about Chorus Communications, please visit their website at http://www.choruscommunications.com/.
Media Relations Contact