Go Green Lawn Services Promotes Giving the Gift of Environmentally Conscious Lawn Care Services All Year Long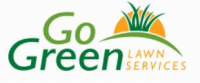 West Chester, PA -- (SBWire) -- 12/07/2018 --Properly caring for a lawn is a year-round responsibility and that's why Go Green Lawn Services encourages giving the gift of a luscious green lawn for any occasion. When a yard is in good shape, families have an outdoor space to use and enjoy. A lush lawn is also known to improve property value and the value of the neighborhood. Therefore, give the gift everyone wants: beautiful, green grass without any hassle with Go Green Lawn Care Services' lawn programs.

Mowing and raking aren't enough to keep a lawn healthy. The three keys to lush lawn care are fertilization, overseeding, and aeration, all of which Go Green Lawn Services provides for those in Bucks, Montgomery, Chester, and Delaware Counties. The company offers year-round care for trees and shrubs, and their program also provides growth-stimulating nutrients, protection from disease, and many other benefits.

Go Green Lawn Services promotes environmentally-conscious care that doesn't sacrifice results. Their program for organic lawn care includes 12 residential applications and services that were specifically designed to meet seasonal lawn needs. The company even uses a highly advanced natural product, Holganix, during all of their lawn fertilization services in Bucks County, PA. The use of Holganix ensures that homeowners are aligned with current environmental advances, and that the ecology of the entire lawn and community systems are not compromised.

Those interested in scheduling a free estimate with Go Green Lawn Services or want to learn more about their safe and effective organic lawn care services in Delaware County, PA, such as lawn fertilization, aeration, and/or overseeding, should call 610-285-7947 or visit https://gogreenlawnservices.com/.

About Go Green Lawn Services
Go Green Lawn Services is a lawn and tree care company headquartered in West Chester, Pennsylvania. The company uses safe, natural, and organic lawn care products that help to grow lush, thick lawns for all of their customers in Pennsylvania and Delaware. Aside from their lawn and tree care services, the company also offers preventative pest control, mowing, and landscaping services.

To learn more about Go Green Lawn Services, please visit https://gogreenlawnservices.com.
Media Relations Contact