Glycoprotein Market Will Surge at 0.80% CAGR to Reach 490 Million US$ by the End of 2025 QY Research, Inc.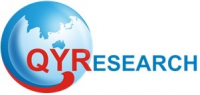 Los Angeles, CA -- (SBWire) -- 04/17/2019 --Glycoproteins are proteins that contain oligosaccharide chains (glycans) covalently attached to polypeptide side-chains. The carbohydrate is attached to the protein in a cotranslational or posttranslational modification. This process is known as glycosylation. Secreted extracellular proteins are often glycosylated.

As international economic situation is complicated, in the next few years there will be many uncertainties. Due to the government' policy and the high consumption of Glycoprotein in the international market, the current demand for Glycoprotein product is relatively large in the mature market, such as North America and Europe, but in developing countries, the level of health care is very low.

Glycoprotein is mainly manufactured and sold by Sigma, Creative Diagnostics, R&D Systems, Enzo Life Sciences, Thermo Fisher Scientific, Epitope Diagnostics, BD Biosciences; and these companies occupied about 91.08% market share in 2016.

Geographically, North America is the largest sales market in the world, which took about 51.88 percent of the global consumption volume in 2016.

The global Glycoprotein market was 460 million US$ in 2018 and is expected to 490 million US$ by the end of 2025, growing at a CAGR of 0.8% between 2019 and 2025.

This report studies the Glycoprotein market size (value and volume) by players, regions, product types and end industries, history data 2014-2018 and forecast data 2019-2025; This report also studies the global market competition landscape, market drivers and trends, opportunities and challenges, risks and entry barriers, sales channels, distributors and Porter's Five Forces Analysis.

Get PDF template of this report: https://www.qyresearch.com/sample-form/form/1091958/global-glycoprotein-market

Geographically, this report is segmented into several key regions, with sales, revenue, market share and growth Rate of Glycoprotein in these regions, from 2014 to 2025, covering

North America (United States, Canada and Mexico)

Europe (Germany, UK, France, Italy, Russia and Turkey etc.)

Asia-Pacific (China, Japan, Korea, India, Australia, Indonesia, Thailand, Philippines, Malaysia and Vietnam)

South America (Brazil etc.)

Middle East and Africa (Egypt and GCC Countries)

The various contributors involved in the value chain of the product include manufacturers, suppliers, distributors, intermediaries, and customers. The key manufacturers in this market include

Sigma

Creative Diagnostics

R&D Systems

Enzo Life Sciences

Thermo Fisher Scientific

Epitope Diagnostics

BD Biosciences

By the product type, the market is primarily split into

N-linkage

O-linkage

Other

By the end users/application, this report covers the following segments

Hospital

Research Institutes

Other

We can also provide the customized separate regional or country-level reports, for the following regions:

North America

United States

Canada

Mexico

Asia-Pacific

China

India

Japan

South Korea

Australia

Indonesia

Singapore

Malaysia

Philippines

Thailand

Vietnam

Rest of Asia-Pacific

Europe

Germany

France

UK

Italy

Spain

Russia

Rest of Europe

Central & South America

Brazil

Rest of Central & South America

Middle East & Africa

GCC Countries

Turkey

Egypt

South Africa

Rest of Middle East & Africa

The study objectives of this report are:

To study and analyze the global Glycoprotein market size (value & volume) by company, key regions/countries, products and application, history data from 2014 to 2018, and forecast to 2025.

To understand the structure of Glycoprotein market by identifying its various subsegments.

To share detailed information about the key factors influencing the growth of the market (growth potential, opportunities, drivers, industry-specific challenges and risks).

Focuses on the key global Glycoprotein manufacturers, to define, describe and analyze the sales volume, value, market share, market competition landscape, SWOT analysis and development plans in next few years.

To analyze the Glycoprotein with respect to individual growth trends, future prospects, and their contribution to the total market.

To project the value and volume of Glycoprotein submarkets, with respect to key regions (along with their respective key countries).

To analyze competitive developments such as expansions, agreements, new product launches, and acquisitions in the market.

To strategically profile the key players and comprehensively analyze their growth strategies.

Get Full Report Now at USD 3,550 @ https://www.qyresearch.com/settlement/pre/8d729db1bfa1dc4ffe06e6166054d528,0,1,Global%20Glycoprotein%20Market%20Report,%20History%20and%20Forecast%202014-2025,%20Breakdown%20Data%20by%20Manufacturers,%20Key%20Regions,%20Types%20and%20Application

About QYResearch
QYResearch always pursuits high product quality with the belief that quality is the soul of business. Through years of effort and supports from the huge number of customer supports, QYResearch consulting group has accumulated creative design methods on many high-quality markets investigation and research team with rich experience. Today, QYResearch has become the brand of quality assurance in the consulting industry.
Media Relations Contact