Globl High-Pure Hydrochloric Acid Market Size Is Estimated to Hit 180 Million US$ Growing at a CAGR of 6.2% Between 2019 and 2025: QY Research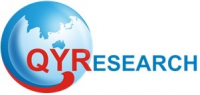 Los Angeles, CA -- (SBWire) -- 04/20/2019 --High-purity hydrochloric acid is a pure aqueous solution of hydrogen chloride. It is a strong volatile acid with pungent odor, toxic, and corrosive. It reacts easily with most metals and metal oxides.

In consumption market, China and North America are the mainly consumption regions due to the bigger demand of downstream applications. In 2017, these two regions occupied 59.73% of the global consumption volume in total.

High-pure hydrochloric acid has several grades with different concentration, which include high-pure hydrochloric acid 31-33%, high-pure hydrochloric acid ?33%. And each type has different applications relatively with different properties. With advantages of high-pure hydrochloric acid, the downstream application industries will need more high-pure hydrochloric acid products. So, high-pure hydrochloric acid has a huge market potential in the future.

Access PDF version of this report: https://www.qyresearch.com/sample-form/form/1092305/global-high-pure-hydrochloric-acid-market

The major raw material for high-pure hydrochloric acid is hydrogen and chlorine. There is fluctuation in price of raw materials in the past few years. The production cost of high-pure hydrochloric acid is also an important factor which could impact the price of high-pure hydrochloric acid.

The global High-pure Hydrochloric Acid market was 110 million US$ in 2018 and is expected to 180 million US$ by the end of 2025, growing at a CAGR of 6.2% between 2019 and 2025.

This report studies the High-pure Hydrochloric Acid market size (value and volume) by players, regions, product types and end industries, history data 2014-2018 and forecast data 2019-2025; This report also studies the global market competition landscape, market drivers and trends, opportunities and challenges, risks and entry barriers, sales channels, distributors and Porter's Five Forces Analysis.

Geographically, this report is segmented into several key regions, with sales, revenue, market share and growth Rate of High-pure Hydrochloric Acid in these regions, from 2014 to 2025, covering

North America (United States, Canada and Mexico)

Europe (Germany, UK, France, Italy, Russia and Turkey etc.)

Asia-Pacific (China, Japan, Korea, India, Australia, Indonesia, Thailand, Philippines, Malaysia and Vietnam)

South America (Brazil etc.)

Middle East and Africa (Egypt and GCC Countries)

The various contributors involved in the value chain of the product include manufacturers, suppliers, distributors, intermediaries, and customers. The key manufacturers in this market include

BASF

Oxy Chem

TOAGOSEI

Detrex Chemicals

KMG Electronic Chemicals

Akzo Nobel

PCC Group

Vynova

Dongyue Group Ltd

Jinmao Group

Suhua Group

Sanonda

Siping Haohua Chemical

Suzhou Crystal Clear Chemical

Jianghua Microelectronics Materials

Chuandong Chemical

By the product type, the market is primarily split into

Concentration: 31-33%

Concentration>33%

By the end users/application, this report covers the following segments

Semiconductor

Food Ingredient & Supplement

Pharmaceutical

Other

Get this report now at USD 3,350: https://www.qyresearch.com/settlement/pre/ea7daf5e24ac4f2d8798501764b1a85b,0,1,Global%20High-pure%20Hydrochloric%20Acid%20Market%20Report,%20History%20and%20Forecast%202014-2025,%20Breakdown%20Data%20by%20Manufacturers,%20Key%20Regions,%20Types%20and%20Application

About QYResearch
QYResearch always pursuits high product quality with the belief that quality is the soul of business. Through years of effort and supports from huge number of customer supports, QYResearch consulting group has accumulated creative design methods on many high-quality markets investigation and research team with rich experience. Today, QYResearch has become the brand of quality assurance in consulting industry.
Media Relations Contact