Snag a Summer Catch with Free Spool Sport Fishing
North Miami Beach, FL – 08/08/2019 – Deep sea fishing is a unique activity that can be enjoyed virtually any time of year. People of all ages can enjoy the thrill of reeling in a catch and being in the middle of the ocean. There are several reasons why this is a summer activity worth doing.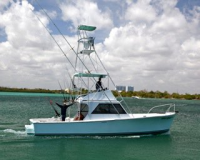 Miami Beach, FL -- (SBWire) -- 08/08/2019 --Speaking of the ocean, it's a wonderful experience being on a boat with close friends, family, and loved ones. A deep sea fishing trip can be booked so that the fishing trip is enjoyed solely by a select group of individuals.

In regards to friends and family, deep sea fishing trips encourage togetherness as people come together to celebrate each other's catches instead of wandering off to do their own thing, which is common in a typical vacation.

Anyone that enjoys seafood or leads a pescetarian lifestyle may find that a deep sea fishing trip presents an opportunity to catch the food they will take home and consume, though there may be laws requiring the fish to be returned to the ocean after catching. A sense of pride is typical when a person reels in a successful catch.

About Free Spool Sport Fishing
Free Spool Sport Fishing is a custom built 43' Sports Fisherman Free Spool located at Haulover Marina offering an exciting deep sea fishing experience for anyone including families, friends or business associates. Spearheaded by Miami native Captain Dennis Forgione, the boats fish for many different species of fish and it specializes in kite fishing for sailfish and mahi, live bait fishing for kingfish and other game fish. For more information on sport fishing Miami or to book a trip, please call 305-582-5445.
Media Relations Contact