Fishing in Certain Weather Conditions
North Miami Beach, FL – 09/05/2019 – When out deep sea fishing, the weather conditions will play a pivotal role in how successful a deep sea fishing boat experience will be. Free Spool Sport Fishing takes a closer look at this.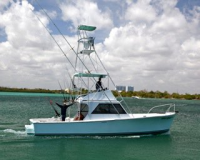 Miami Beach, FL -- (SBWire) -- 09/05/2019 --The wind will be a critical factor as it will cause a push in the water and may pull surface food away from the shore. Baitfish, for example, will swim over to where this food is, which may make it harder to catch the fish if the wind is strong and the bait isn't "remaining still".

Fish are surprisingly adept at detecting Mother Nature's fluctuations. It's common for them to feed voraciously a few hours before the arrival of a cold front. The feeding tends to slow down if a storm has touched down and once it has passed. After a cold front, fish activity may be minimal.

While most fishing enthusiasts may not like the idea of possibly getting drenched, fishing in the rain may reap rewards. The rain will help with breaking up the view that a fish has via the water surface.

Free Spool Sport Fishing is ready to educate future fishing fans on all things weather and fishing-related.

About Free Spool Sport Fishing
Free Spool Sport Fishing is a custom built 43' Sports Fisherman Free Spool located at Haulover Marina offering an exciting deep sea fishing experience for anyone including families, friends or business associates. Spearheaded by Miami native Captain Dennis Forgione, the boats fish for many different species of fish and it specializes in kite fishing for sailfish and mahi, live bait fishing for kingfish and other game fish. For more information on sport fishing Miami or to book a trip, please call 305-582-5445.
Media Relations Contact