Teen Author Releases First Book in Urban Fantasy Series
Seventeen-year old K.M. Siddeeq, Winner of BookLogix's Young Writer's Contest, Stuns with First Published Book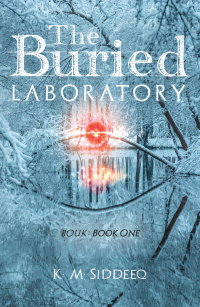 Alpharetta, GA -- (SBWire) -- 10/31/2019 --The 2017 Young Writers Contest winner Khalil Mohammed Siddeeq makes his enthralling debut with The Buried Laboratory, the first book in his young adult urban-fantasy series.

The Buried Laboratory follows Rouk Sabree, a normal teenager with doting parents, close friends, and a loving sister. But unlike most teens, an incorporeal second consciousness exists in his mindscape. The subject of an uneventful study designed to pull an extradimensional being into the physical world, Rouk has lived his entire life being completely, slightly above average. With the advancements of science, however, "slightly above average" will not be enough to combat the threats soon to engulf the planet. Unable to understand what is happening to him, Rouk alone is equipped to face these dangers.

Writing as K.M. Siddeeq, Khalil worked on the earliest draft of The Buried Laboratory when he was only thirteen years old. He was an avid reader of science fiction and fantasy novels, and was inspired by a few of his favorites, which included Eragon, Harry Potter, and Percy Jackson.

"This book is an amalgamation of all the things I would find cool in a story," says Khalil. "The magnitude of the fantastical directions I could go in is one of my biggest drives to write more and create more, and it is why my first stories were fantasy, because I was not confined to the more mundane aspects of our reality."

Khalil skillfully balances witty, sarcastic humor with strong themes of friendship and family in this imaginative, fast-paced novel. One thing he hopes readers take away is the importance of relying on others.

The Buried Laboratory is available in print on Amazon and shop.BookLogix.com, and the eBook is available on Amazon, BarnesandNoble.com, and Apple iBooks.

Note to Media:
Khalil is available for media interviews. To schedule an interview, please email marketing@booklogix.com or call 470-239-8547.

About the Young Writers Contest
The BookLogix Young Writers Contest is now open for submissions for the 2020 contest period and is seeking exemplary creative work from young writers. The YWC fosters creative writing and literacy among young people by offering writers ages ten to eighteen the opportunity to have their book published.

About BookLogix
BookLogix is a professional publishing house that supports authors and independent publishers. Located in Alpharetta, GA, BookLogix publishes a variety of fiction and nonfiction books. Learn more at BookLogix.com.
Media Relations Contact