5G Infrastructure Market Size, Shares, Growth, Segments, Industry Analysis & Outlook 2019-2025
A recent report published by Infinium Global Research on 5G infrastructure market provides an in-depth analysis of segments and sub-segments in the global as well as regional 5G infrastructure market.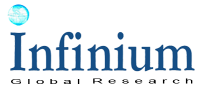 Pune, India -- (SBWire) -- 12/18/2019 --A new report published by Infinium Global Research on "5G Infrastructure Market(Communication Infrastructure - Small Cell, Radio Access Network (RAN), Macro Cell, and Distributed Antenna System; Network Technology - Software Defined Networking (SDN), Network Function Virtualization (NFV), Mobile Edge Computing (MEC), and Fog Computing (FC); Chipset Type - Application Specific Integrated Circuit (ASIC), Radio Frequency Integrated Circuit (RFIC), and Other Chipset Types; End-user Industries - Automotive, Consumer Electronics, Healthcare, and Other End-user Industries): Global Industry Analysis, Trends, Size, Share and Forecasts to 2025."

5G technology is advanced wireless technology that began a widespread utilization in 2019. The waves of the 5G millimeter are recorded to be the fastest with an actual speed frequently of a gigabit or two. The global 5G infrastructure market is projected to grow at a CAGR of 64.1% over the forecast period of 2019-2025.

Get Sample Report Copy for Market Insights @ https://www.infiniumglobalresearch.com/reports/sample-request/15229

5G Infrastructure Market Expect to Grow on Accountancy of Demand for High Speed

The rise in demand for mobile services, high speed, and large network coverage promotes growth for the global 5G Infrastructure market. Growing demand for 5G provided smartphones boost the growth of the 5G Infrastructure market. Demand from various industries such as automotive, industrial, healthcare and Internet of Things drive the growth of the global 5G infrastructure market. Moreover, technological advancements and adoption to 5G infrastructure in smart cities generate growth opportunities for the global 5G infrastructure market.

Dominance Held by North America in the Market

Geographically, North America is anticipated to hold a dominant share in the global 5G Infrastructure market owing to increase automation in different industries and the adoption of advanced technologies such as the Internet of Things propel the growth for the 5G infrastructure market in the region. Europe is accounted to grow at a steady pace owing to presence of key software providers in the region. Asia-Pacific shows growth due to an increase in investments in smart technologies in the region.

Enquire here Get Customization & Check Discount for Report @ https://www.infiniumglobalresearch.com/reports/request-discount/15229

Global 5G Infrastructure Market Expected to Grow Along with the Segments

According to the analyst, the scope of the market is analyzed on the basis of communication infrastructure, network technology, chipset type, and end-user industries. Based on communication infrastructure the study includes small cell, radio access network (RAN), macro cell, and distributed antenna system.

Based on network technology the study includes software-defined networking (SDN), network function virtualization (NFV), mobile edge computing (MEC), and fog computing (FC). Based on chipset type the market includes an application-specific integrated circuit (ASIC), radio frequency integrated circuit (RFIC), and other chipset types.

Based on end-user the market includes automotive, consumer electronics, healthcare, and other end-user industries. The automotive segment is expected to grow at a rapid pace and hold a dominant share in the global 5G infrastructure market owing to its compatibility to share status updates, real-time information, and request rides. It provides platforms for Uber and other share ride companies.

Major Market Players in the Industry

Based on the analysis of the market the leading companies in the study include Intel Corporation, Samsung Electronics Co. Ltd., NEC Corporation, Qualcomm Inc., Ericsson Inc., Huawei Technologies Co. Ltd., Nokia Corporation, Cisco Systems, Inc., Analog Devices, Inc., Verizon Communications Inc., and other companies. In July 2019, NEC Corporation announced the acquisition of KMD Holdings ApS, for approximately 8 billion Danish Kroner.

Browse Detailed TOC and Description of this Exclusive Report@ https://www.infiniumglobalresearch.com/ict-semiconductor/global-5g-infrastructure-market

About Infinium Global Research
Infinium Global Research provides in-depth insight regarding the market, its trends, indicators, and factors that drive and restrain the growth of the market. IGR expertise in the analysis of the market growth using analytical tools, that were also used to analyze the market for the 5G Infrastructure market. Other than healthcare and medical devices, IGR also deals in the field of agriculture, food and beverage, aerospace and defense, chemical and materials, automotive, consumer goods and packaging, energy, infrastructure and mining, ICT, semiconductors and electronics and industrial automation.

Reasons to Buy this Report:

=> Comprehensive analysis of global as well as regional markets of the 5G infrastructure.

=> Complete coverage of all the product type and application segments to analyze the trends, developments, and forecast of market size up to 2025.

=> Comprehensive analysis of the companies operating in this market. The company profile includes analysis of product portfolio, revenue, SWOT analysis and the latest developments of the company.  

=> Infinium Global Research- Growth Matrix presents an analysis of the product segments and geographies that market players should focus to invest, consolidate, expand and/or diversify.
Media Relations Contact