Global Forecast for Interactive Kiosk Market: Offering, Type, Panel Size, Vertical, and Region Analysis (2022-2027)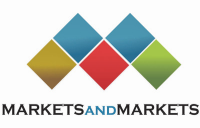 Northbrook, IL 60062 -- (SBWire) -- 03/31/2023 --The Interactive kiosk market size is projected to grow from USD 30.85 billion by 2023 to reach USD 39.1 billion by 2027 ; it is expected to grow at a Compound Annual Growth Rate (CAGR) of 6.3 % from 2022 to 2027.

The growth of this market is driven by factors such as enhanced shopping experience for customers, rising demand for self-service in banking & financial services, enhanced applications over conventional services and innovations in touch screen display and glass technology.

Inquiry Before Buying:
https://www.marketsandmarkets.com/Enquiry_Before_BuyingNew.asp?id=221409707

Key Market Players in Interactive Kiosk Market:

KIOSK Information Systems (US)
Olea Kiosks Inc. (US)
Frank Mayer and Associates, Inc. (US)
Source Technologies (US)
NCR Corporation (US)
GLORY LIMITED (Japan)
Diebold Nixdorf (US)
Embross (Canada)
Meridian Kiosks (US)
REDYREF Interactive Kiosks (US)
lilitab, LLC (US)

Interactive Kiosk Market Dynamics:

Opportunity: Increasing number of smart cities and smart infrastructure

Smart cities are all about better city management and optimization of resource consumption with the use of integrated urban information and communications technology. These cities are focusing on infrastructure development for making them smarter.

An interactive kiosk is a noteworthy feature of smart cities, which are growing in number in urban areas. These kiosks are used for interactive advertisements, online shopping, sharing community information, travel, and weather details, as well as wayfinding, advertising, entertainment, tourist information, among others. Smart city kiosks allow visitors and residents alike to engage with their surrounding area in a seamless, digital context. Smart city interactive kiosks are used in a variety of ways, including to share local area information, directions, events, transportation details, advertising and even as a "selfie" station and Wifi hotspot.

Challenge: Developing kiosks suitable for all weather conditions for outdoor applications

With increasing technological advancements, interactive kiosks are being used for various applications. Technological advancements in displays have made them complex for outdoor applications. The reason behind this is technologies used for outdoor applications are not as advanced as they are for indoor applications.

Display panels for outdoor applications should be durable and match environmental conditions. The brightness of these screens should also be more compared with the screens used in indoor applications. In regions with excessive snowfall or rainfall, interactive products must have a fully ruggedized casing with standard powerful ventilation systems for protection against rain, dust, and cold environments. Implementing such features increases the price of the product, as well as maintenance costs. Therefore, it is considered to be a challenge for the Interactive kiosk market.

Interactive Kiosk Market Segment Overview:

Healthcare vertical segment to hold a significant share of market during the forecast period

In the wake of the global COVID-19 pandemic, interactive kiosks are playing a major role in the healthcare sector in containing the virus transmission. Self-service check-in interactive kiosks have become relatively common in clinics and hospitals to increase patient privacy and speed up check-in procedures. These self-service kiosks can also help to limit person-to-person interaction, in turn, reducing the risk of transmission of disease or virus between staff and patients. Because most person-to-person interactions occur within close proximity, and often entail talking, the passing back and forth of credit cards, or some other form of payment, and a receipt, it escalates the chances of exposure to the COVID-19 virus. The preference is for patients or guests to interact with a Kiosk rather than with staff at the reception desk.

Request 10% Free Customization:
https://www.marketsandmarkets.com/requestCustomizationNew.asp?id=221409707

Interactive kiosk market in Asia Pacific estimated to grow at the fastest rate during the forecast period

Asia Pacific region is expected to witness the highest growth during the forecast period. The growing popularity of kiosk products, large potential customer base, and technological advancements taking place in countries such as India and China are the factors contributing to the growth of market in Asia Pacific.

The growing urbanization in the Asia Pacific region is boosting the construction of modern infrastructure. Further, the changing lifestyle of youths is leading to the development of malls, multiplexes, theatres, & entertainment infrastructure aiding the growth of market in the region. The increasing awareness of technology has led to the demand for such self-service technology in the varied sectors like entertainment sector, banking and financial sector, hospitality sector, healthcare sector and more.
Media Relations Contact