Sojos Updates Website to Include Customer Testimonies
Homemade dog food company gives voice to customer's comments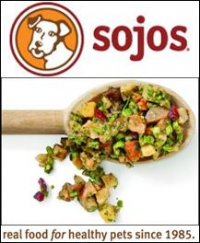 Minneapolis, MN -- (SBWire) -- 08/21/2013 --Minneapolis, MN – Sojos, the natural pet food company has updated their website to include stories and customer comments. Along with comments and success stories, customers can also upload a picture of their pets enjoying their new raw pet food diet.

From weight loss to allergy relief, Sojos homemade dog food has improved the lives of pooches everywhere, and their owners want to share how much the new diet has made an impact. The photo sharing and testimonies allow other potential customer's and their pets to see real results. Owners have marveled at the changes and photos include dogs that have lost weight, gained muscle, and have regained lost coat luster. All clients can submit their comments and photos and after review, they might see their four-legged family member featured on the website.

The holistic dog food made by Sojos can help you find the perfect diet for your dog. They have specialty items that can often be hard to find for pets with special needs as well. Their menu includes grain free dog food as well as gluten free. Grain allergies are fairly common in dogs and it's hard to find high quality food that doesn't have some sort of grain. Sojos' natural dog food ensures that your dog will have the diet they need in addition to the quality they want. Sojos also offers a line of raw cat food as well, so that the feline of your heart will dine on the freshest ingredients with no additives or preservatives. If you're just looking for a special snack for your pets, Sojo also stocks natural dog biscuits and treats. Sojos promises that "unlike kibble, Sojos raw pet food contains no fillers, no preservatives, and no artificial colors or flavors. Just simple, real ingredients like you'd find in your own kitchen."

About Sojos
Created in 1985, Sojos began humbly in the kitchens of two women from Michigan. The original recipe was based off of teachings of the Juliette de Bairacli Levy, who is considered to be the grandmother of herbal medicine. From there it grew into a fairly large company and was purchased in 1996 by Ward and Maggie who continue to run the company from Minnesota. For additional information please visit, https://www.sojos.com/.
Media Relations Contact