Parts Geek Increases Traffic to 2,600,000 Unique Visitors in August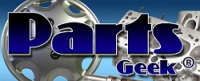 Marlton, NJ -- (SBWire) -- 09/17/2013 --The professionals from Parts Geek are excited to announce that they saw an increase in traffic to their user-friendly website this past August. In fact, they received more than 2,600,000 unique visitors. Independently verified by web analytics company Compete.com, Parts Geek's record amount of unique visitors for August 2013 represents more traffic than the company's largest competitors, auto parts warehouse and JCWhitney. Those interested in seeing the report can do so by clicking the following link: https://siteanalytics.compete.com/partsgeek.com/.

Parts Geek has certainly reached a milestone, and this success can be accredited to how they consistently provide their customers with nothing but the best products and services. In fact, offering the greatest amount of customer service is one of their top priorities, as they realize that retaining this attribute is important to the success and longevity of their business. What's more, potential customers who are curious about how reliable their products and services are can view thousands of testimonials and reviews right on their website.

Apart from finding thousands of reviews for their auto parts and accessories, users will be able to find millions of high-quality auto parts and accessories that are both domestic and imported. To perform a search, users have the option of either performing a keyword search for a particular part of accessory on their website, or they can also select the year, make, and model of their vehicle and view all of the parts that they have available. To hear more about the company, as well as view the auto parts and accessories that they have available, please visit their website today.

About Parts Geek
At Parts Geek, they offer the best and most competitive prices on imported and domestic car parts. They also offer automobile accessories, and many of their items ship fast—all from warehouses scattered throughout the US. Customers can pick from thousands—if not millions, of new automotive parts, refurbished/rebuilt parts, and more from reliable and certified manufacturers. To learn more please visit http://www.partsgeek.com.
Media Relations Contact