Parts Geek Announces Expansion of Auto Parts Catalog to Include 40,000 Additional Products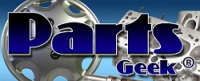 Marlton, NJ -- (SBWire) -- 09/17/2013 --Parts Geek, a leading online auto parts retailer, is pleased to announce that they have expanded their catalog to include an additional 40,000 products. With prices up to 80 percent off their retail value and guaranteed fast shipping, customers can purchase any vehicle part that they may be in the market for. Whether a customer is interested in new headlights, air filters, fuel pumps, motors, or radiators, Parts Geek has anything their customers may need.

For instance, if an individual has problems seeing when driving in the rain due to streaky windshield wipers, Parts Geek has a wide range of wiper blades available for a variety of makes and models. There's nothing worse than listening to the squeak of windshield wipers when driving through a storm and having trucks and SUVs spray the windshield which alters a drivers' vision. That's why Parts Geek has over 86,000 parts available from top brands—Bosch, AC Delco, Motorcraft, and more—to help drivers replace faulty parts at a discounted price.

The most important part of driving is to make sure the parts are working up to their standards. Don't drive with a damaged fuel pump or exhaust system and risk the possibility of breaking down or causing an accident. Whether driving a 1966 Ford Bronco or a 2014 BMW Z4, keep the car running smoothly with auto parts from Parts Geek.

If, for some reason, the wrong product was ordered, Parts Geek offers a 30-day money back guarantee to ensure complete customer satisfaction. Simply visit the website to fill out a support ticket and customer service will issue a return merchandise authorization number which allows the product to be returned. There is also a variety of reviews on the Parts Geek website so customers can feel assured of their purchase.

Clients have the option of being able to track their order to know exactly when the product is being delivered and get their car back on the road as soon as possible. To browse their millions of auto parts in an effort to find a replacement part for a specific model, simply visit their user-friendly website for bargain prices on any new or refurbished part.

About Parts Geek
At Parts Geek, they offer the best and most competitive prices on imported and domestic car parts. They also offer automobile accessories, and many of their items ship fast—all from warehouses scattered throughout the US. Customers can pick from thousands—if not millions, of new automotive parts, refurbished/rebuilt parts, and more from reliable and certified manufacturers. To hear more, please visit http://www.partsgeek.com.
Media Relations Contact