Parts Geek Now Offering over 10,900 Different Headlight Assembly Products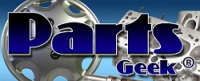 Marlton, NJ -- (SBWire) -- 09/24/2013 --Parts Geek is now offering over 10,900 headlight assembly products on their user-friendly website. As the leading online retailer of auto parts and accessories, the professionals from Parts Geek offer headlights from top brands such as Anzo, Action Crash, Bosch, and TYC. To view the headlight assembly products that Parts Geek has available, users can either type in the brand that they are looking for, or navigate to the "Headlight" page on their website.

Those interested in purchasing headlights from Parts Geek will be pleased to see the wide variety of products and brands that they have available. Right now they have an Action Crash headlight assembly available for 2002 Chevrolet Impalas at a great low price of $51.48. For those who are interested in a different brand of headlight for their Impala, Parts Geek is also offering a TYC brand headlight assembly for $78.98. With their vast online inventory of headlights, drivers will be able to find the product they need fast and efficiently so that they are not left sitting, or driving in the dark.

Having an improperly functioning headlight can be detrimental to the driver of the vehicle as well as others who are on the road. Furthermore, driving with one headlight is extremely dangerous, and those who choose Parts Geek to find their replacement headlight will be at ease knowing that their headlight assembly will arrive on time and in great condition.

Those interested in reading reviews in regards to what some of Parts Geek's previous customers have had to say about their headlights will find over 900 of them right on their website. Here is what one recent reviewer, Eric M., had to say about his Replacement brand headlight assembly, "I am very pleased with my purchase of this headlight assembly. They were brand new and I received them in a timely fashion. I would highly recommend these products to anyone, and have done so. Thanks Parts Geek!!!" To hear more about Parts Geek and to see their headlight assembly products, please visit their website today.

About Parts Geek
At Parts Geek, they offer the best and most competitive prices on imported and domestic car parts. They also offer automobile accessories, and many of their items ship fast—all from warehouses scattered throughout the US. Customers can pick from thousands—if not millions, of new automotive parts, refurbished/rebuilt parts, and more from reliable and certified manufacturers. To learn more please visit http://www.partsgeek.com.
Media Relations Contact