Parts Geek Now Offering Wide Variety of Heater Hoses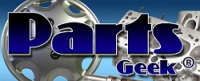 Marlton, NJ -- (SBWire) -- 09/25/2013 --Parts Geek, a leading online auto parts retailer, is pleased to announce that they now have an extensive selection of heater hoses for a car or truck in their online catalog. As the winter months are looming and the temperature is dropping, drivers need to be comfortable when they're behind the wheel. If the vehicle is not heating properly, drivers will not have a good driving experience on the roadways and could breakdown in the wintery weather. For this reason and more, over 17,000 heater hoses are now available on Parts Geek's website for a variety of different make and model vehicles.

If there happens to be any signs of a burst heater hose, drivers should take the time to replace the product before the weather becomes too cold and windy and the car is stuck with no heat. Whether driving an Audi, a Jeep, Mercedes, or Honda, Parts Geek has the heater hose that will make the car safe and drivable again. Offering fast shipping and some of the lowest prices for quality car parts, customers are sure to have their cars back up and running in no time. With some of the top brands for heater hoses—like AC Delco, Goodyear, Mopar and Original Equipment—there is no place that has the variety of Parts Geek.

The prices will vary, depending on the year and model of the particular vehicle. If driving a 2007 Ford Explorer, it will cost $9.10 to replace a heater hose, whereas a 2001 Audi A4 Quattro heater hose will cost $73.98. To see the various make and model vehicles Parts Geek offers heater hoses for, please visit their website today.

About Parts Geek
At Parts Geek, they offer the best and most competitive prices on imported and domestic car parts. They also offer automobile accessories, and many of their items ship fast—all from warehouses scattered throughout the US. Customers can pick from thousands—if not millions, of new automotive parts, refurbished/rebuilt parts, and more from reliable and certified manufacturers. To hear more, please visit http://www.partsgeek.com.
Media Relations Contact