Executive Auto Salon Will Now Repair the Body of Vehicles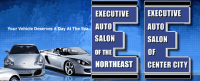 Philadelphia, PA -- (SBWire) -- 09/24/2013 --Every time the ignition is turned in a car, drivers run the risk of some type of damage occurring. Drivers like to get to their destination as quickly as possible and the results can leave any vehicle dinged up. Whether the hood needs to be repaired, the bumper is falling off, or the rims are smashed in, Executive Auto Salon is proud to announce they are now repairing the body of vehicles. When drivers get rear-ended at a red light or side swiped on a city block during the night, the professional auto repairmen will make any vehicle look good as new.

No matter the make of the car or where the repairs are needed, the professionally trained technicians will communicate with the customers to get an idea of how they want their car to look. They will service four-door sedans, two-door pick-up trucks, SUVs or motorcycles. In the unfortunate situation of an accident, drivers are stuck with deciding whether to purchase a brand new auto part or simply getting it repaired. With Executive Auto Salon, their repair services will save customers money and fix the damage in a timely manner for the driver to get back behind the wheel.

Drivers no longer need to cruise around town with a dent in the door or a rim off its hinges. If a vehicle was keyed or scratched by a door in a parking lot, there is no job too small or too big for the technicians at Executive Auto Salon. For a fresh paint job after an accident and a newly polished exterior, Executive Auto Salon is recognized for their auto detailing in PA.

At Executive Auto Salon, when customers pick their car up it will look like they are driving it off the lot for the first time. Their detail packages include anything from washing the exterior to polishing the vehicle with a paste wax to make the car shine. Drivers can select from a wide selection of car detailing in PA. Services range from a simple hand wash to the ultimate detail for luxury cars. For more information about repairing vehicles or getting them detailed, please visit their website today.

About Executive Auto Salon
Executive Auto Salon is proud to offer the finest automotive detailing, auto body repair and painting services in the Tri-State area. They have over 20 years of automotive experience in many facets of the industry and are dedicated to providing exceptional service for those in the Philadelphia area. Executive Auto Salon is more than happy to assist those who are looking to take care of their automobile.

To learn more visit http://www.executiveautosalon.com/main.htm.
Media Relations Contact