Act Now for a Free Quote from Glas Water
Glas Water is now offering free quotes for their custom water bottles with no obligation to purchase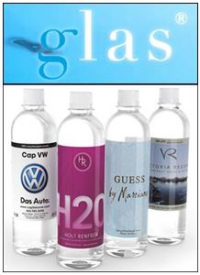 Langley, BC -- (SBWire) -- 11/11/2013 --Glas Water takes your business logo to create customizable water bottles and labels for your business. Customers can now receive a free quote with no obligation attached.

Businesses are always looking for ways to expand their brand. When they have more visualization, this leads to more recognition and a larger customer base. Glas Water uses digital technology that can reproduce your logo and colors without any pixilation or disturbances. You can customize your label or choose from a library of premade labels.

There are many options for a customized bottle shape ranging from eight ounces and up. There are flat bottles as well as twisted allowing you to choose what speaks to your brand. They are all BPA free water bottles. Prior to being created, you have the opportunity to see a 3D rendering as well as feel a mock. Once you know what options you want, Glas Water will put together a quote for you so you can decide whether to move forward. There is no hassle or obligation involved so no pressure is placed on you to buy.

Glas Water puts their customers first so even with a free quote you can count on quality. The company states they "provide personal attention to your custom labeled bottle water concept, which are designed to increase functionality and to solidify your brand." If you are interested in obtaining a quote, the company can be contacted through email or phone. Act now before this offer disappears.

About Glas Water
Glas Water has a decade of experience working with water filtration systems and private label markets. They have multiple production facilities located throughout the United States and Canada, which cuts down on their processing time. They rely on integrity, excellent customer service, and ethics to maintain and grow their business. For more detail please visit, http://www.glaswater.com/.
Media Relations Contact