Owner of Reed Brothers Security Continues as President of the California Locksmiths Association
Randy Reed heads association with aim to combat fraudulent locksmith activities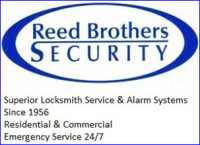 Oakland, CA -- (SBWire) -- 11/20/2013 --Oakland, CA - The owner of Reed Brothers Security, Randy Reed, will continue as President of the California Locksmiths Association (CLA). One of his goals is to educate the state on ways to combat fraudulent locksmith activities.

The California Locksmiths Association protects customers by supporting fair business practices, educating locksmiths, and guarding against fraudulent locksmiths practicing in the state of California. Locksmiths who join the CLA must be licensed vendors, thus ensuring that no fraudulent locksmiths join. The CLA offers classes and maintains a list of schools for its members.

Fraudulent locksmith activities have been on the rise in recent years. Unlicensed and fraudulent locksmiths typically are unable to open a lock without breaking it and then grossly overcharge for the work that they were unable to do. Randy Reed hopes to combat this serious issue in order to protect customers and locksmiths' reputations. He says, "I am extremely happy to continue in this position. It allows me the opportunity to work with a fantastic board to find ways to enhance the security of the public throughout the entire state. Home and property safety are extremely important to us, not only because of the monetary value they possess, but also because of their great emotional value."

The website for the California Locksmiths Association lists where licensed locksmiths can be found in an area. People can also report fraudulent locksmith activity on their website. For more information on these issues, Reed Brothers Security can answer questions or direct people to the right person.

About Reed Brothers Security
Protecting San Francisco and the Bay Area for more than 50 years, Reed Brothers Security offers an array of security services to protect you and your belongings. They aim to provide cutting edge technology and superior service to make you feel safe. Reed Brothers Security is a licensed, bonded, and insured company that you can trust. For additional information please visit, http://reedbrotherssecurity.com/.
Media Relations Contact