Parts Geek Now Offering Auto Parts & Accessories for the 2013 Toyota Sienna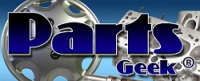 Marlton, NJ -- (SBWire) -- 11/25/2013 --Parts Geek, one of the biggest online auto parts retailers, is happy to announce that they are now offering auto parts and accessories for the 2013 Toyota Sienna. The 2013 Toyota Sienna is not only a sharp-looking vehicle, but it seats up to seven or eight people, makes for a comfortable ride, and has outstanding safety features. Voted by Kelley Blue Book as one of the ten best cars for winter in 2013, there are many reasons why someone should be purchasing this impressive minivan—especially if the driver does a lot of traveling during inclement weather conditions. Therefore, to help those who are looking for auto parts and accessories for their 2013 Toyota Sienna, Parts Geek is offering a wide variety of products including mirrors, wiper blades, floor mats, bumper protection pads, and more.

In order to find the auto parts and accessories that Parts Geek has available for the 2013 Toyota Sienna, all a user needs to do is select the proper year, make, and model options on the website, and he or she will immediately be brought to the 2013 Toyota Sienna parts page. From there, a user will be shown the most popular parts, but the user also has the option of filtering the results by category or part name. In all, Parts Geek's extremely user-friendly website makes it simple to find the auto part or accessory that any user is searching for.

The amount of auto parts and accessories that PartsGeek.com has in its inventory is in the millions. Also, with some of the best and most affordable prices on many different auto parts and accessories, Parts Geek will be sure to impress even the most seasoned buyer. To hear more about the company, as well as check out their inventory of 2013 Toyota Sienna products, please visit their website today.

About Parts Geek
At Parts Geek, they offer the best and most competitive prices on imported and domestic car parts. They also offer automobile accessories, and many of their items ship fast—all from warehouses scattered throughout the US. Customers can pick from thousands—if not millions, of new automotive parts, refurbished/rebuilt parts, and more from reliable and certified manufacturers. To learn more please visit http://www.partsgeek.com.
Media Relations Contact