Parts Geek Now Offering Wide Variety of Headlight Dimmer Switches in Their Inventory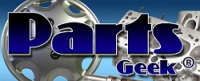 Marlton, NJ -- (SBWire) -- 12/04/2013 --When it comes to driving at night or in extreme fog, it is necessary for a driver to be able to control the brightness of their headlights. A headlight dimmer switch is a mechanism—rooted on the steering wheel of newer car models—that allows the easy alteration of headlight brightness. A simple part that can be fixed without a mechanic, Parts Geek, a leading auto parts retailer, is pleased to announce they now have an extensive collection of over 3,200 headlight dimmer switches in their inventory. The switch operates some of the most important parts of a vehicle when driving at night, including high beams and turn signals, crucial elements that provide safe driving for both other drivers and passengers on the roads.

When drivers realize their headlights won't turn on, or they have no control over the brightness—or dimness—of their headlights when driving on an excluded road in the dark, a headlight dimmer switch from Parts Geek will prove to be beneficial for anyone operating a vehicle. Whether driving a 2004 Jeep Wrangler or a 2009 Chevrolet Cobalt, there is a headlight dimmer switch available to solve all nighttime driving. Depending on the type of vehicle, some switches may come equipped with cruise control and combo switches, fog light switches, and genuine intermotor quality.

Those interested can shop with confidence after reading the variety of reviews from satisfied customers. Parts Geek has some of the best prices for auto parts in the industry and with over 3,200 switches, there are top brands for any model vehicle. For more information, or to browse their inventory for headlight dimmer switches compatible with a specific make and model, please visit their website today.

About Parts Geek
Parts Geek offers an extensive line of auto parts, performance accessories, and part applications. While focusing on providing the largest supply of replacement parts, Parts Geek also provides the lowest prices on all new, OEM aftermarket and performance parts and accessories. Online, visitors will find an extensive catalogue of new and used parts for all domestic and imported cars and trucks. Since 1996, Parts Geek has been offering customers complete satisfaction with their high quality service. The company's main office is located in Marlton, New Jersey. Do not hesitate to contact the company online, with any questions, comments, or concerns. The main office is open Monday through Friday, from 9 am to 6 pm, and Saturday from 9 am to 3 pm.

To hear more about the company please visit http://www.partsgeek.com.
Media Relations Contact