Agent X'S Contemporary Art Won Recognition in London and Los Angeles' Prestigious Shows
His work is voted as Top Entry in London's "The Curious Art-Pie Show by Art-Pie. He has also been accepted as juried exhibition in Los Angeles for the "Past, Present, Future" show.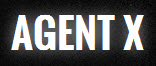 Vancouver, BC -- (SBWire) -- 01/09/2014 --Contemporary artist Agent X has been recently voted top entry by Art-Pie in London in the "The Curious Art-Pie Show." His contemporary art works will be displayed in a group show at the Curious Duke Gallery in London between 6 and 12 February, 2014. Agent X's work will be displayed among top 50 artists during the show.

Another exhibition where his works will be displayed is the "Past, Present, Future" show at Linus Galleries in Los Angeles. This juried exhibition will showcase artworks of various artists from different parts of the world.

Agent X says that he is happy and honored to be part of these respected shows. "I believe my work is paying off. Being a part of both these prestigious events, I feel honored, and at the same time I am happy that my work will be exposed to a big number of art lovers," he adds.

He also informs that availability of his works online and his interviews with popular magazines worldwide has helped to him to increase awareness for his contemporary artworks. With the help of the internet, he is reaching out to many people all over the world with his work. This strategy is paying off well as within a short period his works are selected to be featured in those two popular exhibitions in London and Los Angeles.

Agent X's works also won good recognition last year. He was the best selling artist at "New Blood Art Gallery" from London in 2013 and Resident artist at SoHo Arthouse in New York and Can Pop Gallery in Spain.

"I am working hard and it definitely feels great when I get recognition for my effort. However, more than my honors, what excites me most is the ability to reach more enthusiasts who love contemporary art and influence artists like me," he adds.

Agent X's latest artworks are now featured on his website.

About Agent X
Agent X is a contemporary artist who work is being displayed in different parts of the world like London, New York, Spain and Los Angeles. For more information on his works, visit his website http://www.agentxart.com/.
Media Relations Contact