Everyone Used to Be a Maker Says Novelist at Fantasy Art Blog
Author Tracy Falbe included many details about artisans and crafters in her new werewolf novel set in Renaissance Europe. In a guest appearance at a fantasy art blog she shared her thoughts about a handmade economy.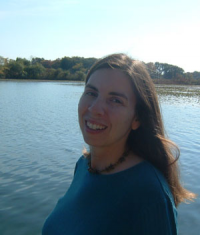 Battle Creek, MI -- (SBWire) -- 03/03/2014 --On March 2nd The Art & Tree Chatter of Aquariann, a fantasy artist's handmade blog, was the host for the 10th stop of Tracy Falbe's Werewolves in the Renaissance blog tour.

To promote her 9th novel the historical fantasy Werelord Thal: A Renaissance Werewolf Tale, Falbe is touring blogs with guest posts about Renaissance history.

In Humanity's Love of Handcrafting published at Aquariann's blog, Falbe explained how she included details about the handmade economy of the Renaissance setting for her novel. Blacksmithing, spinning, beer brewing, and sewing are portrayed as part of daily life.

Falbe's guest post also lamented how modern people have largely lost touch with their handcrafting skills since the Industrial Revolution.

She wrote, "But we still want to make things. To craft them and feel that connection with the final product and know that the energy of our minds and bodies is forever a part of it."

She also made the point that handcrafting naturally invites people to do their best and take pride in their work. In the handmade societies of history, quality was the goal because people were making objects for their own needs.

"In the past, everything needed to be built to last. Planned obsolescence would have been anathema to both housewife and clockmaker," Falbe wrote.

The author likened writing a novel to handcrafting. With words and feelings she creates each new story.

Her tour host is an artist known as Aquariann. She showcases Etsy finds and her own artwork at the Art & Tree Chatter of Aquariann. She grew up on the southern Delaware coast and majored in graphic design at Flagler College in Florida. Rarely does she venture far from coastal waters. Colored pencils are her chosen medium for expressing the fantastical world of her imagination.

Falbe's blog tour continues through March 13th. Her novel Werelord Thal: A Renaissance Werewolf Tale is on sale at Amazon, Barnes & Noble, Kobo, iBooks, Smashwords, and at the author's web store Brave Luck Books. Both paperback and ebook formats are available.
Media Relations Contact