Bootiful Buttock Enhancement Cream and Boobiful Breast Cream 50% off at International Lingerie Show 2014 in Las Vegas
Visitors to booth 741 at the International Lingerie Show can purchase Bootiful Butt Enhancement Cream and Boobiful Breast Cream for half off the regular retail price at the show, scheduled for March 31 through April 2, 2014 at the Rio hotel and casino in Las Vegas.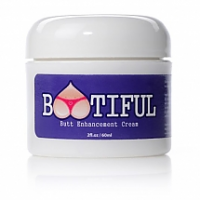 Las Vegas, NV -- (SBWire) -- 04/01/2014 --Bootiful Butt Enhancement Cream and Boobiful Breast Cream will be available at a 50% discount at the 2014 International Lingerie Show in Las Vegas from March 31 through April 2, 2014. The all-natural enhancement products will be available for sampling in booth 741 at the Rio Hotel and Casino.

This is Priced-Right-Products' second year at the ILS. "We did the Lingerie Show last year, and made some great contacts from serious buyers, which is why we are back," noted the company's spokesperson, Byron Thierry. "We are here to build brand awareness," he continues. "We're offering 50% off retail buyers and guests at the show, and we also have some very attractive promotions going on for distributors, so we encourage anyone who retails body care products to stop by Booth 741."

Why sell body creams at a lingerie show? "Who doesn't want to look better in lingerie?" asks Thierry. "At the Rio we will be surrounded by lingerie, clothing and accessories designed to make womens' bodies look sexy and beautiful, and that's what our mission is as well. Our buttock enhancement cream and breast enhancement cream are designed to help women feel more confident and attractive in lingerie and swimsuits. Bootiful Butt Cream helps to smooth away dimples, wrinkles and stretch marks and plump up the buttocks. Boobiful Breast Cream's all-natural ingredients help to make the bust look more full and attractive. So the International Lingerie Show is a perfect fit for our product line."

The ingredients in Bootiful Butt Enhancement Cream and Boobiful Breast Enhancement Cream are clinically shown to enhance the appearance of the skin's surface and improve the firmness of the deeper subcutaneous tissues. "Naturally, you can't get surgical results with any topical cream," says Thierry, "but you also won't have huge plastic surgery bills, a painful recovery, or missed work. We created Bootiful and Boobiful to be a safer, more affordable alternative to plastic surgery procedures."

The buttock and breast enhancement creams, made from a blend of vitamins, antioxidants, natural botanical extracts and other natural ingredients, are covered by a 60-day money-back guarantee. Contact Priced-Right-Products at YourBootiful.com or call 201-245-4665 for wholesale pricing, or stop by booth 741 during the International Lingerie Show.

About the International Lingerie Show
Scheduled for March 31 through April 2, 2014, the International Lingerie Show returns to the all-suites Rio Hotel and Casino at 3700 West Flamingo Road in Las Vegas. Hundreds of exhibitors will display lingerie and sleepwear, plus dancewear, clubwear, swimwear, sexy shoes, hosiery and novelties in the Pavilion. Show hours are Monday 9:00 a.m. to 5:30 p.m., Tuesday 9:00 a.m. to 5:30 p.m. and Wednesday 9:00 a.m. to 3:00 p.m. The International Lingerie Show is exclusively for registered buyers, distributors and their guests, and is not open to the general public.

About Priced-Right-Products, LLC.
Priced Right Products LLC is a New Jersey company with over a decade of experience in Internet sales. The company began in 2000 marketing popular consumer items and has since then expanded into developing and marketing its own original products, like Bootiful Butt Enhancement Cream and Boobiful Breast Enhancement Cream. Priced Right Products has enjoyed explosive growth, with sales topping $1.1 million in 2012.
Media Relations Contact