Bootiful Butt Enhancement Cream Attracts Attention at International Lingerie Show
New Jersey company's alternative to surgical butt lifts, Bootiful Butt Cream, attracts Latin American market interest at International Lingerie Show 2014 in Las Vegas, Nevada. Bootiful's ingredients are clinically proven to enhance skin elasticity, increase hydration, and reduce the appearance of stretch marks and cellulite.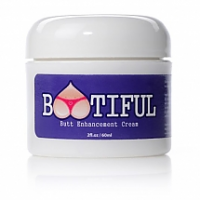 Las Vegas, NV -- (SBWire) -- 04/14/2014 --Bootiful Butt Enhancement Cream — and it's sister product Bootiful Breast Enhancement Cream — attracted the interest of several Latin American distributors at the International Lingerie Show, held recently in Las Vegas, Nevada. "ILS was a good branding experience for Priced-Right-Products," says the New Jersey company's spokesperson, Byron Thierry. "We made some good connections in Latin America and Brazil, so we hope to get a piece of that market in coming years."

The International Lingerie Show is known for its revealing and racy lingerie fashion shows. "ILS celebrates sexy female bodies," says Thierry, "and that's what we do at Priced-Right-Products. Our goal is to help women feel great about themselves with our all-natural product line of body enhancement creams."

Although no topical preparation can compare with plastic surgery, the botanical extracts and compounds in Bootiful Butt Cream have been clinically shown to increase the elasticity and tone of the skin, reduce the appearance of stretch marks and cellulite, and improve skin's hydration, to help the butt look plumper and firmer.

"We saw a lot of firm butts at the ILS," says Thierry. "But lingerie models aren't the only women who want a firmer, more lifted butt." American women paid over $66 million to plastic surgeons for butt augmentation and butt lift surgeries in 2013, according to the American Society for Aesthetic Plastic Surgery. Thierry continues, "We know that not every woman can afford to take a month off work to recover from butt augmentation, so we aim to offer an alternative to risky, painful procedures like butt lifts."

"We also saw a lot of very expensive enhanced breasts on the runway in Las Vegas," Thierry adds. "And if you're a swimsuit or lingerie model, maybe it's a good investment to spend thousands of dollars on painful breast augmentation surgery. But most of our customers are normal women who are looking for more affordable (and less painful) alternatives." Boobiful Breast Enhancement Cream contains a botanically-derived ingredient that has been shown in a clinical trial to increase breast size as much as 8.6% in less than 60 days.

"This was our second year at the International Lingerie Show, and thanks to our exposure at last years' show, everyone knew who we were. Some people also remembered us from the viral video series we launched in January to promote Bootiful Butt Cream and Boobiful Breast Cream," said Thierry. "As a small company, it's great to know that people are remembering us at large events like the International Lingerie Show."

About Priced-Right-Products, LLC
Priced-Right-Products, LLC creates self-care products that help women feel more beautiful and more attractive. The company's debut product, Bootiful Butt Cream, is a vitamin and botanical-based alternative to "butt lifts" and other surgical buttock enhancement procedures. Priced-Right-Products was founded in 2010 outside of New York City, and the company saw over $1.4 million in sales during 2012.

About Bootiful Butt Cream
Bootiful Butt Enhancement Cream features an exclusive formula of all-natural ingredients including water, honey, Vitamin E, Don Quai, vanilla, Damiana, saw palmetto, Calendula, safflower oil, black cohosh, Vitamin C, Vitamin B3, and aloe vera that took years to develop. The product retails for $39.99 and is covered by a 60-day money-back guarantee. Quantity discounts are available.

About Boobiful Breast Enhancement Cream
The plant-derived breast-boosting ingredient in Boobiful Breast Cream, Volufiline™, is designed to stimulate the reproduction of adipose cells in the breast tissues to help boost breast size without hormones or surgery. Covered by a 60-day money-back guarantee, Boobiful is available online for $39.99. Discounts are available when purchasing multiple jars.
Media Relations Contact