Executive Auto Salon Announces Auto Detailing Specials for Spring 2014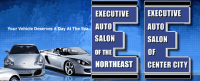 Philadelphia, PA -- (SBWire) -- 04/15/2014 --Executive Auto Salon is now offering auto detailing specials for spring 2014. This month, drivers can get the company's exterior hand wash, wax, and undercarriage cleaning for only $95. Technicians will clean wheels, tires, door jams, dashboards, door panels, consoles, and windows, plus apply tire dressing and hand paste wax the exterior. The hand wash also includes interior vacuuming. Upgrade to the Executive Detail for a full interior and exterior cleaning.

Hand washing cars' exteriors after a long winter is important. The shell has been bombarded with street salt throughout the season that can chip and scratch paint and treated metal. Chips and scratches in a vehicle's exterior can rust very quickly. If chips or scratches do occur, Executive Auto Salon also provides auto body painting for any car or truck. With 5,000 colors to choose from, their custom car paint in Philadelphia can match any factory shade. Customers can order paint jobs to fill in chipped paint or repaint the whole vehicle if desired.

Executive Auto Salon also performs auto body and mechanical repairs on damaged vehicles. From scratches and dents to bumper repair and full restoration, this body shop does it all. With locations in Center City and Northeast Philly, the company stands out with an extensive range of affordable services for all kinds of vehicles.

Executive Auto Salon performs auto body work and customization on cars and trucks. They are also a leading mobile food truck builder in Philadelphia. To learn more about their services visit them online or call 215-496-0606.

About Executive Auto Salon
Executive Auto Salon is proud to offer the finest automotive detailing, auto body repair and painting services in the Tri-State area. They have over 20 years of automotive experience in many facets of the industry and are dedicated to providing exceptional service for those in the Philadelphia area. Executive Auto Salon is more than happy to assist those who are looking to take care of their automobile.

To learn more visit http://www.executiveautosalon.com/main.htm.
Media Relations Contact