Bootiful Butt Enhancement Cream Offers Tips for a Beach-Ready "Booty" This Memorial Day Weekend
Heading to the beach this holiday weekend? Here are some tips to make a "beach butt" look its best, from the butt beauty experts at Bootiful Butt Cream.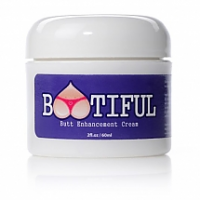 New York, NY -- (SBWire) -- 05/23/2014 --Millions of women will be heading to the beach this Memorial Day weekend, and "many of them aren't happy with their butt," says Byron Thierry, spokesman for Priced-Right-Products, the company behind Bootiful Butt Enhancement Cream. Some women can't bear to "bare it all" because of concerns about a flat butt, dimples, stretch marks or cellulite.

There are several ways a woman can improve the appearance of her "beach butt," says Thierry.

Choose the right bikini bottom. Summer 2014 bikini trends include ruffled rears and sassy, strappy bottoms. To disguise a flat butt, choose a bikini bottom with ruching or ruffles across the seat. "Several designers are showing bottoms with so many ruffles that they look like Latin dance costumes," says Thierry. Another popular trend is a 'retro look' panty with rows of pom-poms or gathered eyelet ruffles. "A full-coverage bottom with strappy, high-cut sides can also make a flat bottom seem curvier," says Thierry.

Pamper the posterior. Keep the skin on the buttocks smooth, plump and moisturized with a product like Bootiful Butt Enhancement Cream. The topical cream includes all-natural botanical extracts and vitamins that are clinically shown to stimulate blood circulation and skin cell production to soften wrinkles and reduce the appearance of cellulite, stretch marks and blemishes. Bootiful Butt Cream also helps the butt look larger by stimulating collagen production and skin density to plump up the tissues in the buttocks.

Don't skimp on sunscreen. A second-degree sunburn (and the peeling that follows) doesn't look good on any part of the body—especially the butt—and may increase the lifetime risk of skin cancer. Sun exposure also dries out the tissues and breaks down collagen, making wrinkles and dimples more noticeable. Be sure to apply waterproof, broad-spectrum sunscreen to the butt and all of your exposed skin before hitting the beach or the pool.

Get to work on the glutes. A regular exercise regimen that includes butt-specific moves like donkey kicks, hip extensions, stair climbing and squats can help tone and define your gluteal muscles to make your booty look bigger and firmer.

"No woman is perfect," says Thierry, "Don't let worries about your 'booty' keep you from having fun this Memorial Day weekend."

About Bootiful Butt Cream
Bootiful Butt Cream is available in a 2-oz. size which retails for $39.99 at YourBootiful.com. Bulk discounts are available for multiple-jar orders.

About Priced-Right-Products, LLC.
Priced Right Products LLC is a New Jersey company with over a decade of experience in Internet sales. The company began in 2000 marketing popular consumer items and has since then expanded into developing and marketing its own original products, like Bootiful Butt Enhancement Cream and Boobiful Breast Enhancement Cream. Priced-Right-Products has enjoyed explosive growth, with sales topping $1.1 million in 2012.
Media Relations Contact