Parts Geek, a Leading Auto Parts Retailer, Now Offering a Wide Selection of Brake Shoes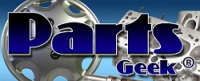 Marlton, NJ -- (SBWire) -- 06/16/2014 --Parts Geek, a leading auto parts retailer, is pleased to announce that they are now offering a wide selection of replacement brake shoes made from the top manufacturers in the industry. By offering the best products at low prices, Parts Geek has been able to remain a leader in the replacement auto part retail industry. When customers visit PartsGeek.com, they will have over 17,700 brake shoes to choose from. They are available from such top brands as: Centric, Wagner, Bendix, Beck Arnley, Monroe, PBR, MK Kashiyama, Genuine, Motorcraft, AC Delco, Professional Parts Sweden, Sangsin, Mopar and Textar. At PartsGeek.com, customers can shop by the make of their vehicle. Such vehicle makes available on the website are Acura, Buick, Daihatsu, Geo, Infiniti, Land Rover, Mercury, Oldsmobile, Ram, Subaru and Volvo.

No motorist wants to drive a car that doesn't deliver reliable braking power, which is why when replacement brake shoes are needed, customers turn to PartsGeek.com. A brake shoe is a key component in a vehicle's brake system, and if worn, can have a negative affect that can cause an unforeseen accident to occur. To avoid trouble on the road, motorists can replace their brake shoe and any other part of their braking system. The online auto retailer offers affordable prices, fast shipping options, and top-notch customer service.

One of the brands currently being featured on PartsGeek.com is Beck Arnley. As a top brand in the industry, Beck Arnley allows motorists to receive unbeatable service and performance out of their car or truck. Making a small investment in choosing Beck Arnley brake shoes will have a long-lasting impact on a vehicle's performance.

One customer, who left a 5-star review on PartsGeek.com, said "This is the easiest site to use and navigate to find parts for my car. It's good to know that the parts that I am looking at will fit for my car." Motorists who are interested in hearing what other customers have to say about the reliable service of PartsGeek.com can visit the website to read more 5-star reviews.

About Parts Geek
At Parts Geek, they offer the best and most competitive prices on imported and domestic car parts. They also offer automobile accessories, and many of their items ship quickly—all from warehouses scattered throughout the US. Customers can pick from thousands—if not millions, of new automotive parts, refurbished/rebuilt parts, and more from reliable and certified manufacturers. To learn more please visit http://www.partsgeek.com.
Media Relations Contact