Parts Geek Now Offering over 263,300 Dodge Parts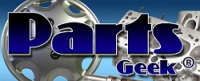 Marlton, NJ -- (SBWire) -- 06/18/2014 --Dodge, founded over 100 years ago, is a brand of American made vehicles that includes SUVs, minivans, and even sport utility vehicles. Those who are trying to find high-quality Dodge parts on the Internet will be pleased with the plethora of products that they will find on PartsGeek.com. In fact, Parts Geek is now offering over 263,300 Dodge parts on their user-friendly website.

Dodge owners will have the chance to select from products such as air filters, belts, brake pads, mufflers, power steering pumps, and much more. They also have auto parts and accessories available for 18 different Dodge models including the Avenger, Charger, Neon, and Challenger.

Those who are interested in reading reviews about Dodge products will find over 4,430 positive reviews on the website. A recent customer, who ordered a Replacement brand door mirror glass, had this to say: "I love Parts Geek. All their parts are good name and quality. No one can beat their prices. And their standard shipping is surprisingly fast at least to my home in Missouri anyway. I buy all my parts from them unless I'm stuck on the side of the road."

Parts Geek is a leading auto parts retailer that offers customers affordable prices and fast shipping on many of their products. Customers also have the chance to save up to 80% off retail prices just by choosing Parts Geek. Those who are looking for any kind of auto parts for any type of vehicle will be hard-pressed to find them missing from their website. To view their inventory, please visit their website today.

About Parts Geek
At Parts Geek, they offer the best and most competitive prices on imported and domestic car parts. They also offer automobile accessories, and many of their items ship quickly—all from warehouses scattered throughout the US. Customers can pick from thousands—if not millions, of new automotive parts, refurbished/rebuilt parts, and more from reliable and certified manufacturers. To learn more please visit http://www.partsgeek.com.
Media Relations Contact