Vitarank and the Future of Digital Marketing in Our Midst
Digital Marketing is dynamic and it will continuously change in the future. But the fact that it already knocked on the door of brand and marketing is an indication that it is here to stay and it will change the way we see customer service in the future.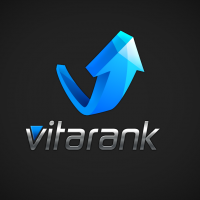 Atlanta, GA -- (SBWire) -- 10/24/2014 --The future is finally here. Only a few business owners in the 1800s could have imagined that buying and selling of products and services can now be experienced by tapping a few keys at the comfort of one's homes or offices. The reign of digital marketing has finally arrived.

Social Media, the internet and the innovation of personal computers and smartphones has opened doors to a bright future of digital marketing. Many business owners use social media and websites as tools to communicate and build relationships with their clients. It is said that keeping a loyal customer is much better than gaining newer ones. Hence, digital marketing focuses on how brand and marketing can be part of the client's daily lives. Numerous applications and innovations had been added to smartphones where most transactions can be done by just clicking radio buttons as compared to business transactions done some ten years ago where a client need to walk a few meters, meet a salesperson or a clerk to do a business transaction.

The change on how to personally handle and deal with clients will be impacted by digital marketing. In the present time when excellent customer service experience is acquired through personal interaction or over the phone, 7 out of 10 Americans say that they will spend more to a company which provides excellent customer service rather than a well-known company which does not. In the future, clients will no longer be waiting on the line for their inquiries to be answered, digital marketing will change customer service into an interactive experience wherein each words being written on the screen will be answered quickly through social media. Businesses can also receive immediate feedback from clients who have actually used a product or acquire any services and can use these feedback to improve or answer unresolved issues immediately.

According to the Internet World Statistics of 2014, there are approximately 7,181,858,619 people who uses the internet at least once a day, Asia ranking as number one at 45.1 per cent. Imagine building a good marketing relationship with this number of population. Some might think that building a business relationship with these much number of people is too far-fetch, however this can be achieved by proper planning, execution and achieving a new level of personal touch of customer service. How can an average business come at par with huge companies when it comes to digital marketing?

1. Know the Context and Behavior of Digital Marketing: There are millions of marketing data available to business today. Information such as recent buying statistics, previous customer email transactions, customer service survey reports, review sites and in-store experiences which can be used to promote a product through different social media platforms. All one needs to do is to study and research on how this available information can be beneficial to a particular brand or product. All these information are important to strategize on how to present a brand based on customer behaviour and the customer service journey.

2. Build a Deep and Trustworthy Relationship with Clients Over Time. It is a customer service fact that it is 6 to 7 times more expensive to acquire a new customer rather than keep a current one. This is the reason why most companies have their retention and acquisition team with the latter spending most of the share of resources and budget to acquire new customers. The point is valuing the customer's lifetime value to the products and services a company offers is important in gaining revenue. There are some points in a customer service journey where a marketer need to check if the customer was able to receive excellent service which will result to customer loyalty and personal recommendation to other consumers or vice-versa. Considering these important points lead to a possibility of desired outcomes such as additional sales, upsells, good reviews and social comments. Even greater result would be the best advertisement of all which is a positive "word of mouth." This will in turn lead to a business' measure of success.

3. Brand Each Channel with a Different Persona. Website personalization can help make a brand to be personally loved by clients. For Vitarank, an expert in the field of developing cutting-edge SEO campaigns, personalization software and tools can engage new website visitors with personalized content which can drive 30% increase in conversation and inquiry rates about the site's products and services. Marketers can also personalize content with most frequent visitors to create a more enhanced experience. This will lead to better customer engagement and excellent customer service journey.

In conclusion, the digital marketing being experienced by marketers and customers alike is just a tinge of what the digital marketing of the future might be. Digital Marketing is dynamic and it will continuously change in the future. But the fact that it already knocked on the door of brand and marketing is an indication that it is here to stay and it will change the way we see customer service in the future.

About Vitarank
Vitarank has developed cutting edge SEO campaigns and providing results in highly competitive markets since 2009. With over 5,000 keywords ranked on page 1 of Google since its inception, Vitarank has been providing predictably positive results through the toughest and most competitive search engine landscapes in history.

With customers ranging from fortune 1000's, publishers, webmasters and super affiliates to large agencies who put their name on Vitarank's brand, customer satisfaction and on time results are Vitarank's only concern. Their on-time delivery guarantee ensures that its clients can hit deadlines and excel without micromanaging their SEO campaigns no matter what the company's size or volume of orders.
Media Relations Contact