Paraolympic Gold Medalist, April Holmes and Brand Strategist, Stacey Ferguson Guest Star DJ and Da Bear
DJ and Da Bear: Keeping You at the Top of Your Game, hosted by thought leader DeEtta Jones and Pro Football Hall of Famer Richard Dent, welcome Paralympic gold medalist and best-selling author, April Holmes, and entrepreneur, brand strategist and media personality, Stacey Ferguson, to talk about overcoming obstacles, achieving greatness and managing your personal brand.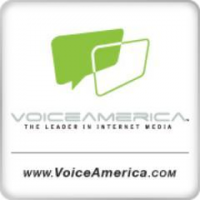 Phoenix, AZ -- (SBWire) -- 01/06/2015 --Paralympic gold medalist April Holmes and brand strategist Stacey Ferguson are set to make guest appearances on the VoiceAmerica Talk Radio show, DJ and Da Bear: Keeping You at the Top of Your Game, Monday, January 5, 2015 at 2 pm PST/5pm EST, streaming live at: http://www.voiceamerica.com/show/2406/dj-and-da-bear-keeping-you-at-the-top-of-your-game.

Holmes and Ferguson join the Empowerment Channel show's hosts, thought leader DeEtta Jones, and iconic Pro Football Hall of Famer Richard Dent, to discuss overcoming obstacles, achieving greatness and managing your personal brand. Holmes will also share insight into her best-selling book, "The Winning Way", as well as her new book hitting stores soon, "Stop Limping Thru Life, Start Running".

Holmes began her career in Paralympic track & field a year after a tragic train accident in 2001 that resulted in the loss of her left leg below the knee. After a doctor told her about the Paralympic Games, she became determined to wear the USA uniform, break world records, and win gold medals. Along with breaking world and American records multiple times, Holmes succeeded in another goal, taking her first gold medal in the 100 meters at the 2008 Beijing Games.

Holmes has been featured in media outlets including NBC Today Show, CBS Early Morning, Fox, ESPN, BBC, Forbes, and Oprah's "O" Magazine. She was recently named by the International Paralympic Committee's "Top 10 Women in Paralympic Sport", NCAA 2015 Inspirational Athlete of the Year, a US Paralympic & US Anti-Doping Ambassador, and has assisted First Lady Michelle Obama on the "Let's Move" Campaign.

Stacey Ferguson is a sought-after media personality, digital brand strategist, content creator, public speaker, freelance writer, advisory board member, and Chief Curator of the Be Blogalicious community and conferences, celebrating diversity among women in social media.

She has been featured in Southern Living, The Washington Post, Black Enterprise, NPR, The Tom Joyner Morning Show, Mashable, The Root, and many more. As Founder of Justice Fergie Lifestyle Media, she combines media, publishing, consulting & events to inspire women to live richly with strategies for life design and turning personal passions into viable brands.

Ferguson is also a technology and advertising attorney by trade and regularly consults with entrepreneurs, startups and established brands on digital and brand strategy.

The episode Monday, Overcoming Obstacles, Achieving Greatness and Managing Your Personal Brand, will spin from DeEtta Jones' published article, Take Control of Your Brand: The 4Cs of Brand Management. Live callers will be taken from 2-3 PST/5-6 EST, at: 888-346-9141.

For literature on the topic, visit: http://www.deettajones.com/archives/3148

About DJ and Da Bear: Keeping You at the Top of Your Game
DJ and Da Bear: Keeping You at the Top of Your Game is hosted by leadership and personal effectiveness thought leader, DeEtta Jones, and her iconic athlete partner, Richard Dent. DeEtta is outgoing, passionate, spunky, diplomatic and funny—a true "next generation leader." Richard is stoic, unrelenting and has a killer instinct. His claim to fame has been kicking ass and taking names. Together they raise children, own two successful businesses, lead philanthropic efforts through their foundation and live fascinating, fast-paced, celebrity lifestyles.

Displayed through the lenses of their multi-faceted relationship, DeEtta and Richard showcase a wide array of subjects about which they have expertise and draw upon an extensive network for intellectual, business and athletic giants to keep you anxious for more. Tune in every Monday at 2 PM Pacific Time on the VoiceAmerica Empowerment Channel.

About VoiceAmerica
VoiceAmerica.com is the world leader in online media broadcasting and the largest producer and distributor of live internet based talk radio , delivering over 300 hours of programming weekly on its VoiceAmerica™ talk radio Network (http://www.voiceamerica.com). Broadcasting to seven niche community based channels: its flagship VoiceAmerica™ Variety Channel, VoiceAmerica™ Health & Wellness Channel, VoiceAmerica™ Business Channel, VoiceAmerica Sports, 7th Wave Channel, Empowerment, and VoiceAmerica Kids Channel. VoiceAmerica.com is one of the pioneers in internet broadcasting, producing and syndicating online Live and on-demand talk radio, offering an innovative, effective and comprehensive digital broadcast platform. Digital Publishing through its 15 years of broadcast and media experience along with our seasoned staff of Executive Producers, Production and Host Services Group, VoiceAmerica.com provides an internet radio platform for new, emerging and veteran media personalities to expand and monetize their business and brand in an online digital medium.
Media Relations Contact