Topper Industrial Mother Daughter Cart Systems Provides Lean Material Flow
Topper Industrial Mother Daughter Cart Systems Provides Lean Material Flow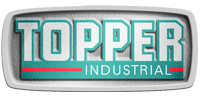 Sturtevant, WI -- (SBWire) -- 03/29/2016 --Several manufacturers are implementing material handling products known as "mother/daughter" (M/D) cart delivery systems to improve operations. Topper Industrial, maker of M/D cart delivery systems, typically has two small carts within a larger cart. Bulk parts can be manually or forklift-loaded onto the two daughter carts in the stock or storage area. One or two complete M/D frames can be towed by a tugger to line-side positions and "dropped" for the assemblers to use, or daughter carts are removed and positioned for use in the cells.

The key to those systems, according to Ed Brown, founder of Topper Industrial, is the reduction of a facility's current fleet of fork trucks by replacing some of them with tugger and cart systems. A fork truck is not safest way to move materials, nor the most efficient. By 2020 most manufacturing facilities will have replaced the fork truck with tugger and cart systems replacing one-load-at-a-time deliveries by fork trucks. The new solution will transform the production floor by acting trains, or a linked series of multiple carts, carrying multiple loads in one trip. The carts themselves may be loaded by a fork truck, but a tugger will handle the deliveries.

Delivering smaller lots more frequently in kitted and sequenced cart orders is an engineered response to the complexity of mass customization. Building multiple product lines on the same production floor or offering a selection of options to customize a standard product, require the flexibility that carts provide.

Brown is the leading patent holder of these industrial carts which have evolved into specialized tools used in engineered processes to move materials as efficiently as possible.

Topper Industrial is exhibiting at MODEX 2016, the largest expo for the manufacturing and supply chain industries from April 4-7, 2016. Attendees visiting Topper Industrial at booth #647 will learn about fork truck free material handling equipment.
To read more, go to: http://bit.ly/1PvZQq4

About Topper Industrial
For more than twenty years, Topper Industrial, (http://www.TopperIndustrial.com) based just outside of Milwaukee, WI, has been a leader in the material handling equipment industry. The company's product roster features industrial carts, conveyors, lifts, lifts & tilts, shipping racks, containers, casters, and cart components. From mother-daughter carts to quad steer carts to tilt carts and rotate carts, Topper's material handling solutions make delivering material line side more effective through more efficient practices. Topper Industrial has a team of experienced professional experts able to assess and provide the right product for all material handling equipment requirements.

Topper Industrial is a proud member of MHI. The Topper Industrial client roster includes Anderson Windows, Detroit Diesel, Honda, Kia Motors, Ford, Chrysler, Aramark, Johnson Controls, Whirlpool, and Caterpillar. Follow on Twitter @TopperInd. Call 800-529-0909.
Media Relations Contact