Manufacturers Seeking Fork Truck Free Environment Find Solution with Topper Industrial Mother Daughter Carts
Manufacturers Seeking Fork Truck Free Environment Find Solution with Topper Industrial Mother Daughter Carts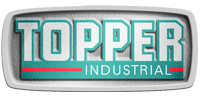 Sturtevant, WI -- (SBWire) -- 05/02/2016 --Topper Industrial mother-daughter industrial carts support lean manufacturing and fork truck free initiatives. Lean manufacturing methods have proven effective in speeding factory production, improving safety, and throughput. To achieve continuous process improvement specialized material-handling equipment is needed to achieve a Lean Six Sigma Value proposition.

Ed Brown, founder of Topper Industrial holds patents to dozens of custom-design carts that can be pulled in a train, turn in tight spaces, and linked with auxiliary carriers handling specialized fork truck free operations.

Brown explained the differentiator of these carts is found in the simplicity, functionality, maintenance, and operation which is why the cart "train" is towed by a tugger tractor and can make smooth, tight turns that are crucial in a factory with narrow aisles.

The daughter carts, which ride on the mother carts, are available in a variety of shapes, styles and types. At MODEX 2016 in Atlanta, Topper Industrial introduced the first diamond-shaped daughter carts. This approach and other popular cart SKUs are ideal for a kit cart, which allows customers in a kitting environment to take bulk material and warehouse it offline and bring it to the point of use as a kit at specific timed replenishment intervals.

To read more, go to: http://bit.ly/1Vqn3mf

About Topper Industrial
For more than twenty years, Topper Industrial, (http://www.TopperIndustrial.com) based just outside of Milwaukee, WI, has been a leader in the material handling equipment industry. The company's product roster features industrial carts, conveyors, lifts, lifts & tilts, shipping racks, containers, casters, and cart components. From mother-daughter carts to quad steer carts to tilt carts and rotate carts, Topper's material handling solutions make delivering material line side more effective through more efficient practices. Topper Industrial has a team of experienced professional experts able to assess and provide the right product for all material handling equipment requirements.

Topper Industrial is a proud member of MHI. The Topper Industrial client roster includes Anderson Windows, Detroit Diesel, Honda, Kia Motors, Ford, Chrysler, Aramark, Johnson Controls, Whirlpool, and Caterpillar. Follow on Twitter @TopperInd. Call 800-529-0909.
Media Relations Contact