Care Temp Heating and Air Conditioning Repairs Faulty Heating Systems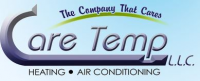 Toms River, NJ -- (SBWire) -- 01/19/2017 --Homeowners who are experiencing trouble with heating systems that do not maintain the proper temperatures this winter are encouraged to contact Care Temp Heating and Air Conditioning and have their certified HVAC contractors take a look at their system. Whether homeowners have a hot water baseboard system or a forced hot air system, the company's experienced technicians will be able to locate and resolve any air conditioning and heating issues in Ocean County, NJ.

Some customers unintentionally cause issues with their system by frequently adjusting the thermostat. This practice is not efficient, and it may actually cause damage to the system by causing it to turn off and on too often, which makes it work harder to bring the room to the desired temperature. Not only that, but this practice can cost homeowners more money on their utility bills.

If the system is not maintaining a comfortable temperature, there could be other issues at play. For example, a hot water baseboard heating system might have air in the lines. Fixing this issue requires professional service, such as that provided by Care Temp Heating and Air Conditioning. For furnaces, poor functionality might mean that the filter needs to be changed, or that the system is in need of a tune-up.

Customers who need heating repair in Brick this winter should not hesitate to contact the trained professionals at Care Temp Heating and Air Conditioning. They will determine what the source of the issue is and then make appropriate repairs to keep the system running in top condition all year round. Call 855-788-TEMP to schedule an appointment today.

About Care Temp Heating and Air Conditioning
Care Temp Heating and Air Conditioning have had the pleasure since 1994 of providing residents in New Jersey's areas of Ocean, Monmouth, and Middlesex County, the highest quality of heating and air conditioning services. Care Temp Heating and Air Conditioning is a preferred contractor with New Jersey Natural Gas (NJNG).

To learn more, visit http://www.caretemp.com/.
Media Relations Contact