Topper Industrial Proves Industrial Carts Are Ergonomic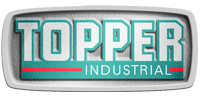 Sturtevant, WI -- (SBWire) -- 02/06/2017 --Topper Industrial recently introduced a blog series regarding common myths about industrial carts in fork truck free manufacturing environments. The blog discussed the misconception that industrial carts are not ergonomic.

To the contrary, industrial carts are highly ergonomic and are designed with operator and picking position in mind. Carts often present in the golden zone, presenting at the optimal operator height. Tilt and rotate carts are effortless to use.

Wheeled carts are used in virtually every industry serving a variety of manufacturing and distribution purposes. These wheeled carts are often unassuming and overlooked, but are an integral component of efficiency and personnel safety.

From the manufacturing floor, to the back of 18-wheel tractor trailers, and the store backroom, wheeled carts support each step of the distribution cycle. In total there are more than 40,000 Topper Industrial carts in operation throughout the world. Holding more U.S. ergonomic patents for industrial carts, Ed Brown continues to provide a wide variety of products that meet documented ergonomic standards for wheeled cart use.

Ed and his team of Topper Industrial engineers have taken the principles of basic ergonomics and integrated them into each cart. Illustrating the importance of ergonomics in wheeled cart-based material handling systems, the myth that industrial carts are not ergonomic is patently false since ergonomics are the primary consideration and factor in the design process of Topper carts.

To read more, go to: http://bit.ly/2jjgL7G

Topper Industrial will exhibit at ProMat from April 3-6, 2016 in Chicago, IL at Booth #S3814. Topper Industrial will offer educational seminars titled, "Why the Fork Truck Free Movement is the North American 2017 Material Handling Trend," on April 3, 2017 from 12:45 PM - 1:30 PM in Theater D and April 5, 2017 from 3:00 PM - 3:45 PM in Theater E.

About Topper Industrial
For more than twenty years, Topper Industrial, (http://www.TopperIndustrial.com) based just outside of Milwaukee, WI, has been a leader in the material handling equipment industry. The company's product roster features industrial carts, conveyors, lifts, lifts & tilts, shipping racks, containers, casters, and cart components. From mother-daughter carts to quad steer carts to tilt carts and rotate carts, Topper's material handling solutions make delivering material line side more effective through more efficient practices. Topper Industrial has a team of experienced professional experts able to assess and provide the right product for all material handling equipment requirements.

Topper Industrial is a proud member of MHI. The Topper Industrial client roster includes Anderson Windows, Detroit Diesel, Honda, Kia Motors, Ford, Chrysler, Aramark, Johnson Controls, Whirlpool, and Caterpillar. Follow on Twitter @TopperInd. Call 800-529-0909.
Media Relations Contact