Zumex Returns to NAFEM This Month
Zumex is excited to announce its upcoming appearance at the 2017 NAFEM Foodservice Equipment and Supplies Show!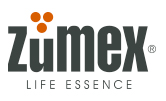 Miami, FL -- (SBWire) -- 02/06/2017 --The NAFEM (North American Association of Food Equipment Manufacturers) Show is the world's leading biennial experience of cutting-edge foodservice equipment and supplies for food preparation, cooking, storage and table service from more than 500 unique manufacturers from a number of unique industries such as healthcare, concession, restaurant, education, and more. Anyone that works in foodservice management and operations can attend the show.

NAFEM focuses heavily on foodservice equipment and supplies and presents a great opportunity to network. This year's show will take place February 9th through the 11th at the Orange County Convention Center in Orlando, Florida.

Zumex will be showcasing its extensive line of commercial juicing products on February 9th at Booth #4410. You can learn more about the show by visiting https://www.thenafemshow.org/.

At Zumex we care deeply about the health of our customers. We are constantly looking for innovative technology in our automatic juicers in order to provide 100% natural and healthy juice to our consumers worldwide. We believe that healthy habits can make a huge difference in people's life. Therefore, we would like to also encourage physical fitness by giving you a chance to win a Fitbit Charge 2 at the NAFEM Show 2017.

Make sure you participate in our sweepstakes during the show. Participation is easy; just snap a picture with your favorite Zumex juicer, share it using the hashtag #ZumexNAFEM2017, and enter to win!

About Zumex
Zumex has been a leader in fruit and vegetable juice extraction since 1985. With more than thirty years of experience, its solutions currently serve food service and retail, vending, and food engineering. The company has an international presence in over 100 countries and is headquartered in Spain.

For more information about a commercial juicer and its product lines, call 305-591-0061 or visit http://www.zumex.com.
Media Relations Contact