Smart Sensors Market, Size, Share, Analysis & Industry Forecast
Global Smart Sensors Market Report, published by Allied Market Research, forecasts that the global market is anticipated to account for $60 billion by 2022, growing at a CAGR of 19.2% from 2016 to 2022.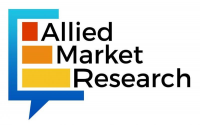 Portland, OR -- (SBWire) -- 06/16/2017 --Smart sensors transmit data over all the available networks, and enable features such as digital processing, data conversion, and interaction with external devices. Such sensors hold significant importance in the current scenario, owing to the augmented usage across various application verticals such as consumer electronics, automotive, and healthcare.

"Early Buyers Will Receive 20% Customization on This Report."

High cost of deployment and privacy concerns are expected to restrain the market growth. However, continuous efforts in R&D to develop improved product at reasonable price is an influencing factor for cost reduction, thereby boosting the growth of the sensor market.

Key market players adopt various strategies to gain a stronger foothold in the market. Companies enter into various agreements and partnerships such as supply & sales agreements and plant manufacture partnerships to serve their customers in a better manner and increase their market outreach. Analog Devices, for instance, signed an agreement with LifeQ with an aim to improve effectiveness of body monitoring devices in health management in 2016.

In terms of revenue generation, the automotive end use application vertical accounted for the major market share with 23% in 2015, and is estimated to be dominant throughout the forecast period. This is attributed to increase in demand for vehicles, driver security measures, and introduction of advanced features by major automobile players.

Europe generates the highest revenue owing to rise in adoption of automotive, building, and consumer electronics along with wide acceptance of smart sensors. Europe accounted for 32% share of the overall market in 2015, and is expected to grow at a CAGR of 18.67% between 2016 and 2022.

Get PDF brochure of the report at: https://www.alliedmarketresearch.com/request-sample/1861

Smart Sensors Market Key Findings:

1. In 2015, image sensors accounted for the major share of the market.

2. Automotive industry is expected to grow with the CAGR of 19.5%.

3. In 2015, touch sensors held the major market share, in terms of revenue generation, in Asia-Pacific, followed by image sensors.

4. The North American smart sensors market is expected to witness the fastest growth, in terms of CAGR from 2016 to 2022.

The major players profiled in this report include Infineon Technologies AG, ABB Ltd., NXP Semiconductors N.V., Yokogawa Electric Corp, Analog Devices, Siemens AG, Renesas Electronics, STMicroelectronics N.V., Eaton Corp, and Emerson Process Management.
Media Relations Contact