Automotive Airless Tire Market Analysis & Forecast 2023
Owing to easy puncture repair, increased comfort for higher speed, lower tire pressure, the tubeless tire market is expected to witness significant growth.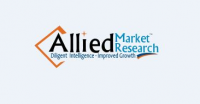 Portland, OR -- (SBWire) -- 08/11/2017 --Airless Tires or non-pneumatic tires (NPT) operate without an inner tube & air pressure, and the composite spokes make a flexible ring that is connected to a solid inner hub to hold its shape. These tires have a rigid & complex construction, wherein a shear band is stretched across the spokes and the tread is attached to the shear band mounted on outside hub. An airless tire comprises treads, high-tension steel belts (protector ply, working ply, and transition ply), spokes, and a hub. Airless tires for two-wheelers and passenger cars are yet to be commercialized. However, penetration of airless tires is far higher in heavy commercial vehicles such as backhoes, cranes, and armored vehicles as compared to others. The tubeless tire market is expected to witness significant growth during the forecast period, owing to its advantages such as easy puncture repair, increased comfort for higher speed, lower tire pressure, better bump absorption, and reduced rotating weight as compared to conventional tires.

Early buyers will receive 20% customization on this report.

In addition to the aforementioned benefits, these tires prevent accidents due to blowouts and punctures, and ensure safety, which drives the market growth. Moreover, rise in number of heavy commercial vehicles, such as heavy-duty trucks, and heavy construction equipment due to urbanization and globalization boosts the growth. However, high capital investment required for setting up new manufacturing facilities and volatile raw material prices limit this growth. Irrespective of these challenges, rise in demand for airless tires in aftermarket and technological advancements, such as airless tire with advanced material, are expected to present various opportunities for market expansion.

Request for Sample @ https://www.alliedmarketresearch.com/request-toc-and-sample/2437

The market segmentation is based on type, vehicle type, and geography. By type, the market is bifurcated into radial and bias airless tires. By vehicle type, it is divided into two-wheelers, passenger cars, and commercial vehicles.

Geographically, it is analyzed across North America, Europe, Asia-Pacific, and LAMEA. Prominent players profiled in the report include Bridgestone Corporation, The Goodyear Tire & Rubber Company, Continental AG, MICHELIN,

Pirelli Tire Spa., SciTech Industries, Sumitomo Rubber Industries, Ltd., Hankook Tire Co. Ltd., CST., and Yokohama Tire Corporation.
Media Relations Contact