Advanced Polymer Matrix Composites Market - Opportunity Analysis and Industry Forecast, 2017-2025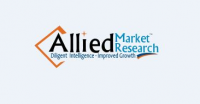 Portland, OR -- (SBWire) -- 08/14/2017 --Advanced polymer matrix composites are high performance composites, made from high performance fibers, and are embedded with the help of a polymer resin matrix. These high performance fibers have exceptional mechanical strength and stiffness, which play an important role in the overall characteristics of the advanced polymer matrix composites. Some of the attractive characters of the advanced polymer matrix composites are high strength, high stiffness, high fracture resistance, good abrasion resistance, good impact resistance, good corrosion resistance, wear resistance, low density, and high fatigue resistance. Advanced polymer matrix composites are utilized in every industry throughout the world but the intensity of the use of advanced polymer matrix composites increases, where strategic weight and high performance are important, such as aerospace industry, high performance automobiles industry, construction industry, and military equipment. Due to its high durability and low density, it has made its way to the sports industry, where it is used to make tennis rackets and golf clubs.

Early buyers will receive 20% customization on this report.

With development of various light weight and high performance aircraft, which drives the advanced polymer matrix composites market. Various industries plan to improve the material performance with minimal cost, which adds to the growth of the advanced polymer matrix composites market. Some of the end-user industries, such as military, which is solely driven by the performance, fuel the market. However, with high cost of raw material and requirement of skilled labor, the production cost of the advanced polymer matrix composites becomes high, which restrains the growth of the market.

The advanced polymer matrix composites market is segmented on the basis of fiber type, matrix material, adhesives type, application, and geography. By fiber type, the market is divided into fiberglass, kevlar, carbon/graphite, boron, and ceramic. By matrix material, it is bifurcated into thermosetting resins and thermoplastic resins. The thermosetting resins is further sub-divided into polyester resins, vinyl ester resin, phenolic resin, epoxy, polyimides, polybenzimidazoles, and bismaleimides. The thermoplastic resins are sub-divided into semicrystalline thermoplastics, amorphous thermoplastics, and polyether ether ketone. On the basis of adhesives type, this study covers film adhesives, paste adhesives, and foaming adhesives. By application, the market is categorized into aerospace/military, marine, automotive, chemical, and others (construction, bio-medical, sports goods, and electrical). By geography, its analyzed across North America, Europe, Asia-Pacific, and LAMEA.

Get PDF of this Report @ https://www.alliedmarketresearch.com/request-toc-and-sample/2688

Some of the major players analyzed in this report are Arkema Group, BASF SE, Hexcel Corporation, Cytec Industries Inc., Koninklijke Ten Cate BV, Toray Industries Inc., Mitsubishi Chemical Holdings Corporation, TPI Composites, Inc., Solvay Group of companies, and SGL CARBON SE.

Key Benefits

- The study provides an in-depth analysis of the market, with current trends and future estimations to elucidate the investment pockets.

- Comprehensive analysis of factors that drive and restrict the growth of the market is provided.

- The report provides a quantitative analysis to help the stakeholders to capitalize on prevailing market opportunities.

- Extensive analysis of different segments facilitates to understand various products of the market.

- Key players are profiled and their strategies are analyzed thoroughly, which predict the competitive outlook of the market.
Media Relations Contact