High Intensity Focused Ultrasound (HIFU) Market: Opportunity Analysis 2023
High-intensity focused ultrasound (HIFU) is a medical procedure that involves the use of focused ultrasonic waves to destroy diseased or damaged tissue through ablation.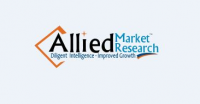 Portland, OR -- (SBWire) -- 10/04/2017 --When ultrasonic waves are focused on the target tissue, the temperature increases which in turn results in protein denaturation, thereby leading to irreversible cell death. Surgical procedures involving HIFU products are generally preferred because they are minimally invasive.

Access full summary at :https://www.alliedmarketresearch.com/high-intensity-focused-ultrasound-market

The global HIFU market is expected to witness significant growth during the forecast period due to factors such as the various benefits associated with HIFU products (such as they cause less bleeding), and a large patient population base across the world suffering from chronic diseases such as cancer and cardiovascular diseases.

Get PDF Brochure of this report: https://www.alliedmarketresearch.com/request-toc-and-sample/2020

In addition, increasing use of HIFU in various treatments, such as for urinary disorders imaging and removal of excess subcutaneous fatty tissue, further propel the market growth. However, stringent regulatory approval procedures for HIFU systems and unfavorable reimbursement scenarios hamper the market growth.

The HIFU market is segmented based on type, application, and region. Based on type, the market is divided into MR-guided and ultrasound-guided. Based on application, the market is divided into bone tumor and soft tissue, prostate cancer, and uterine fibroids. The market is analyzed based on four geographical regions, which include North America, Europe, Asia-Pacific, and LAMEA.

The key players operating in this market include Accutome, Inc., Blatek Industries Incorporated, EDAP TMS, Haifu Medical, Koninklijke Philips N.V., Medtronic plc, SonaCare Medical, LLC, Stryker Corporation, SuperSonic, and Ultrasound Technologies Ltd.

Key Benefits for Stakeholders

- This report provides an extensive analysis of the current and emerging market trends and dynamics in the global HIFU market.

- Comprehensive analysis of regions is provided to determine the prevailing opportunities in the global market.

- This study provides the competitive landscape of the global market to predict the competitive environment across geographies.
Media Relations Contact