In-Car Infotainment Market Share, Size, Trends and Opportunity 2022
Booming smartphone industry and aggrandized use of cloud technology has led to a higher adoption of in-car infotainment systems.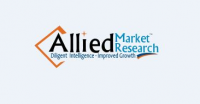 Portland, OR -- (SBWire) -- 10/05/2017 --In-Car Infotainment Market is expected to garner $33.8 billion by 2022, registering a CAGR of 13.3% during the forecast period 2016 - 2022. In-car infotainment market is basically an amalgamation of wide features integrated in the cars to provide entertainment, information and communication services. In-car infotainment refers to the complete unit of navigation, climate control information. These systems manage audio & video content while providing updates and information on traffic conditions and weather forecast. Advanced infotainment systems are equipped with connectivity options like Bluetooth and Wi-Fi, interactive voice recognition services, live media streaming service and smart technology for mobile integration, among others.

Fill the form for an exclusive sample of this report @ : https://www.alliedmarketresearch.com/request-sample/709

Europe has emerged as the most promising region, exhibiting a huge demand for in-car infotainment within the automotive car sector. In 2015, the market for in-car infotainment in Europe was valued at $4.6 billion in 2015. However, Asia-Pacific would be the fastest growing region during the forecast period owing to the burgeoning automotive production and sales coupled with the increasing disposable income of the consumers in the region.

The world In-car infotainment market is segmented on the basis of installation type, components, end user, and geography. Based on installation type, world in-car infotainment systems market is segmented into OEM and aftermarket. The segment OEM installation dominates the global market in terms of revenue and is expected to maintain this trend throughout the forecast period, owing to technological advancements in the automotive electronics industry. Market is categorized as hardware and software based on components.

Limited Period Offer! Get 20% discount on this report

Key Findings In-Car Infotainment Market:

Hardware component segment accounts for the larger share and is expected to dominate the market during the forecast period. The segment is anticipated to lead the market with over 60% revenue share throughout the analysis period.

Asia-Pacific would be the fastest growing region over the forecast period

OEM installation segment of in-car infotainment market has exhibited a strong growth potential, accounting for a higher CAGR as compared to the aftermarket segment.

The report also outlines the competitive environment ofin-car infotainment market, while providing a comprehensive study of key strategies adopted by market leaders. The prominent companies profiled in the report include Panasonic Corporation, Harman International Industries, Bayerische Motoren Werke AG (BMW), Fujitsu Ten Ltd., Delphi Automotive PLC, Denso Corporation and others.
Media Relations Contact