RADAR Market-- Opportunity Analysis and Industry Forecast, 2014-2022
The growth in global RADAR market is fueled by increase in demand across various industries such as electronics, IT & Telecommunication, aerospace & defense, and automotive industries.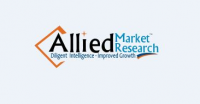 Portland, OR -- (SBWire) -- 01/10/2018 --Global RADAR market size is estimated to reach $10.4 billion by 2022, growing at a CAGR of 3.9% from 2016 to 2022. Radio Detection and Raging (RADAR) is an electronic equipment used to track an object using radio waves. It determines the spread, angle, and speed of the object falling within its radius. It is also used to forecast and detect the spacecraft, aircraft, missiles, weather, and other form of vehicles. RADAR was initially developed for defense and military purposes but with upcoming technologies and innovation, it finds its application in air traffic control, astronomy, air-defense system, anti-missiles systems, marine, aircraft anti-collision system, meteorological monitoring, and more.

RADAR detects the direction, presence, speed, and distance of moving objects such as aircraft, ships, and other objects in real time, by reading the reflected back pulses of radio waves. The accuracy of the measurement of target location in range and angle is also another major aspect which is fueling the demand for RADAR system.

Get the PDF of RADAR Industry Insights @ https://goo.gl/xMQUBj

Based on type, ground-based RADAR captured the largest share in the market in 2015. This type of system is an X-band phased array RADAR system operated mechanically. It functions primarily as a fire control RADAR for ballistic missile defense. The RADAR is used for surveillance using sensors and designed to acquire, track, discriminate targets, and provide information about the enemy during war. Ground-based RADAR system stood over 30% share of the total RADAR system overall followed by other types.

Based on geography, North America contributed the largest share in overall RADAR market, followed by Asia-Pacific, Europe, and LAMEA. The LAMEA market is anticipated to grow at highest rate.

Key Findings of the RADAR Market

1.Airborne RADAR had the second largest share in the market in 2015, with over 29% of market share, and it is further expected to expand with a high growth rate in the coming years.

2. Space-based RADAR is anticipated to exhibit the highest growth rate.

3. North America dominated the market in 2015, supported by growth in the U.S. and Mexico.

4. Asia-Pacific is anticipated to be one of the fastest growing region and the growth is supported by the increased demand in countries such as China, Japan, and India.

The key players of the global RADAR market adopt new concepts & ideas, partnerships, and acquisitions. They plan to improve the manufacturing techniques, besides enhancing their profitability, to gain a competitive edge over other players.

Do purchase inquiry @ https://www.alliedmarketresearch.com/purchase-enquiry/1930

The major players profiled in the report include Northrop Gruman Corporation, Lockheed Martin Corporation, SAAB AB, Rockwell Collins Inc., Thales Group, Kelvin Hughes, L-3 Communications Holdings, General Dynamics Corporation, Dassault Group, SRC Inc., Honeywell International Inc., Leonardo-Finmeccanica-Corporation, Harris Corporation, and others.
Media Relations Contact